A top class whisky tasting event was experienced by our guests on February 25, 2018 at SUSHIYA sansaro - at least if the feedback of the guests present is to be believed. Some Japanese whisky - including very rare and expensive bottles like Yamazaki Bourbon Barrel and Hakushu 18 - could be tasted by the visitors of our tasting. In addition, a food pairing of nothing but small, specially conceived specialties from our kitchen and an accompanying lecture by a whisky expert.
Whisky tasting with beginners and professionals
A very mixed group of guests found themselves at the Munich sushi restaurant sansaro in the Amalienpassage on a sunny but very cold Sunday. The goal: tasting Japanese whisky and food pairing with special creations of our Japanese kitchen team. We had already successfully organized similar tasting events several times in 2017 and earlier for the Theme sake abgewickelt. Die Nachfrage nach unseren Tastings steigt an, da jeder Termin im Restaurant sansaro ein exklusives Event mit einem besonderen, individuellen Food-Pairing ist. So hatten wir bereits bei dem zweiten Sake-Tasting 2017 im November zahlreiche "Wiederholungstäter", die beim ersten Termin im Mai 2017 ebenfalls begeistert dabei waren. Bei diesem Whisky-Tasting waren nach unserer Schätzung die Hälfte der Teilnehmer bereits Gäste unseres Restaurants, die andere Hälfte Whisky-Fans und Tasting-Kenner.[/vc_column_text][vc_column_text]Die Brücke zwischen der japanischen und der schottischen Whisky-Welt wurde von Referent Mark Armin Giesler geschlagen: er hat viele Jahre in Schottland gelebt, selber alle möglichen Stufen von Ausbildung bishin zur Geschäftsführung einer Brennerei durchlaufen und sich dabei solides Wissens aus dem Teil der Welt angegeeignet, wo Whisky eigentlich mal "erfunden" wurde. Und genau so haben es auch die Japaner gemacht, die in den 1920er Jahren das Wissen über die Whisky-Brennkunst in Schottland gesammelt haben und dann in Japan (mit schottischen Brennblasen) aufgebaut und verfeinert haben.[/vc_column_text][vc_column_text]Entstanden ist in Japan daraus unter anderem der Konzern Suntory, der 2014 Jim Beam Whiskey in Amerika gekauft hat und Mark Armin Giesler ist Brand Ambassador von Beam Suntory, dem dritt größten Whisk(e)y-Konzern der Welt mit den Marken Yamazaki, Hibiki und Hakushu, die auch Whisky-Kennern in der westlichen Welt ein Begriff sind. Der Yamazaki Sherry Cask beispielsweise gilt als einer der höchst bewerteten Whiskys weltweit, und viele Whisky wie Yamazaki 18, Hakushu 18 oder Yamazaki Bourbon Barrel sind High-End-Spezialitäten, für die erhebliche Preise aufgerufen werden und die kaum noch zu bekommen sind.
Mark Armin Giesler, however, is of the opinion that one should not attach too much importance to the points awarded by individual experts - "That's' subjective - it has to taste!" says the unmistakable Rhenishman - otherwise nothing helps. And that's exactly what we're here for today: to see which whisky you like.
Unique food pairing
We start the afternoon with a highball, a mixture of whiskey and soda water that is extremely popular in Japan across all social classes and genders. To match, we had a small avocado boat with homemade vegetable chips, Japanese mayonnaise and some Japanese tobiko - a great, unexpectedly interesting combo!
The very next course challenges you to break through the usual thought patterns: "Gorgonzola with zucchini blossom in Japanese cuisine - you actually think that can't fit! And the taste of the gorgonzola is extremely intense at first, but when you then try both together with the whisky - wow!" Leonie Klinkhammer is impressed. Leonie's main job involves a lot of whiskey and she works at the Munich whisky shipper whic.de, also makes tasting videos etc there, so we are very happy about the praise from an experienced mouth.
Each course offers a small, exclusive creation of our kitchen team, each course impresses or sometimes even polarizes, for each course our chef had specially designed a sauce with the respective whisky to be tasted. So in the end you don't really know what is more important on this evening: the food pairing, the Japanese whisky or the expert lecture of our speaker.
Japanese whisky of the highest quality
One thing is definitely clear: the Japanese make whiskey with incredible perfection and attention to detail. Where Scottish distilleries usually always have the same stills to create as much consistency of flavor as possible, the Japanese have groups of differently shaped stills in individual distilleries to create a greater variety of flavors. These are then impressively blended by their master blenders into excellent blends or mature into excellent single malts. At sansaro Restaurant, we have numerous diverse Japanese whiskies of the highest quality that can be sampled in small sips during a visit to our restaurant without having to spend a fortune on the individual bottles. Thus, the bottle costs "Yamazaki Bourbon Barrel", which was served by us to our customers at this tasting, currently costs at least 450 euros (and at times more), a bottle of Hakushu 18 strikes - if you get it at all - with about 300 euros. But at SUSHIYA sansaro we love quality and are happy when we can show our customers something special, be it Japanese sake, Japanese whisky or special creations of our kitchen team. A little tip on the side: always choose the 4cl version for your own orders, so that you can better distribute the smell and taste in the glass, nose and mouth and you get more out of it (4cl is calculated cheaper than 2cl).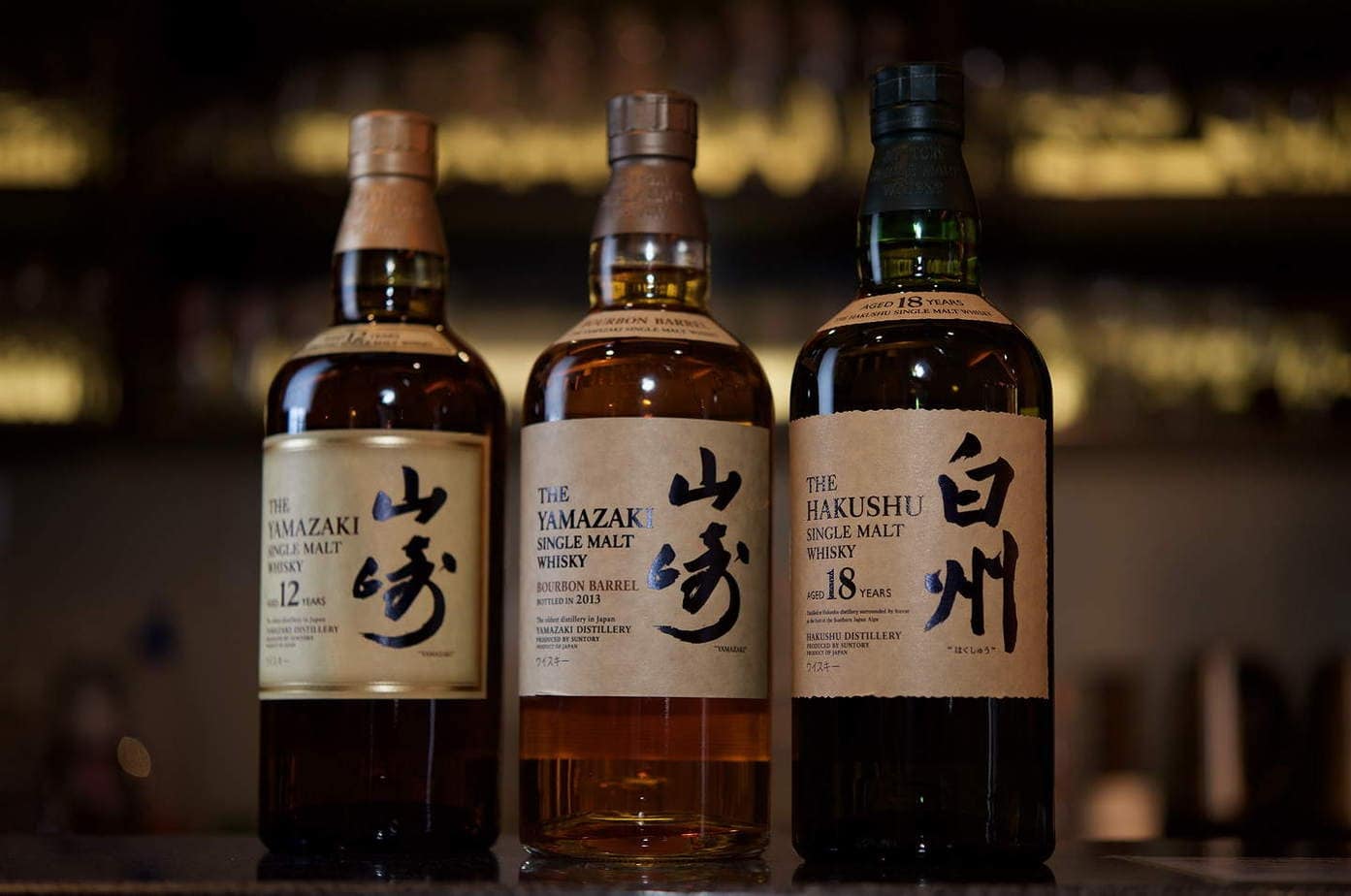 Not cheap: three of the six whiskies we sampled at SUSHIYA sansaro's whisky tasting on 2/25/18: Yamazaki 12, Yamazaki Bourbon Barrel and Hakushu 18.
The highest praise came from a young, whiskey-loving management consultant:
Your attention to detail in all areas is really noticeable, great! It's always special to go to sansaro!
How not to miss the next tasting
]We look forward to the next tasting event at SUSHIYA sansaro with you - feel free to let us know if a topic interests you, subscribe to our newsletterso that you will be informed automatically, send us a messageso that we can make a note to inform you as soon as new dates are fixed!
We notice an increasing interest in our high quality tasting events and it is important that you inform us so that we know what is wanted and we plan accordingly. And until the time comes that the next tasting takes place: visit us for a good glass of Japanese whisky in the restaurant sansaro!