Wow, it remains a wild time! After we have experienced alone year, which threw the previous, usual order over the heap, has now occurred what we would not have thought possible:
the restaurants in Germany will indeed remain completely closed over Christmas and New Year's Eve 2020! This is a great pity, because our team under the leadership of Chef Riichiro Matsui had already finished planning some great New Year's Eve menus.
But we will rethink and do not leave you sitting: of course we are in the restaurant sansaro with our TakeOut and delivery service for sushi and Japanese cuisine in Munich also at Christmas and New Year's Eve there for you.
Opening hours Sansaro delivery service over Christmas and New Year's Eve:
At December 24 at noon and early evening Open for pickup and delivery
To the Christmas holidays 25./26./27.12. we are at noon and evening open for delivery and collection for you
On New Year's Eve, Dec. 31, 2020, we will offer sushi and other specialty items for delivery and pickup.
Here you will find all the information about our opening hours and offers for Christmas. We inform about New Year's Eve in a separate blog articlewhich will be filled with details over the next few days.
What's in the Christmas bentō 2020?
For the Christmas holidays, you can now pre-order a special Christmas bento.
This time we cook specifically classic Japanese and subtly highlight its own flavor and special cooking method of ingredients, some of which you know from the German "Christmas cuisine". In this way, you will not only experience something new with us, but it is possible for every member of the family to try Japanese cuisine "safely", even if you have previously avoided contact with sushi 😉.
The content in a nutshell:
Pink roasted duck breast with sudachi teriyaki sauce
Asparagus and cauliflower Ohitashi
Nishime (various vegetables cooked Japanese style with soy sauce, mirin, etc.)
Lucky Namasu in a fresh Sudachi bowl
Salmon cream croquettes
Chikuwa tempura with aonori
Ohitashi with cherry tomatoes and Brussels sprouts
Japanese potato salad
Each and every one of the ingredients and sections in this Christmas Bento Box is selected and prepared with love and thought for Japanese cuisine.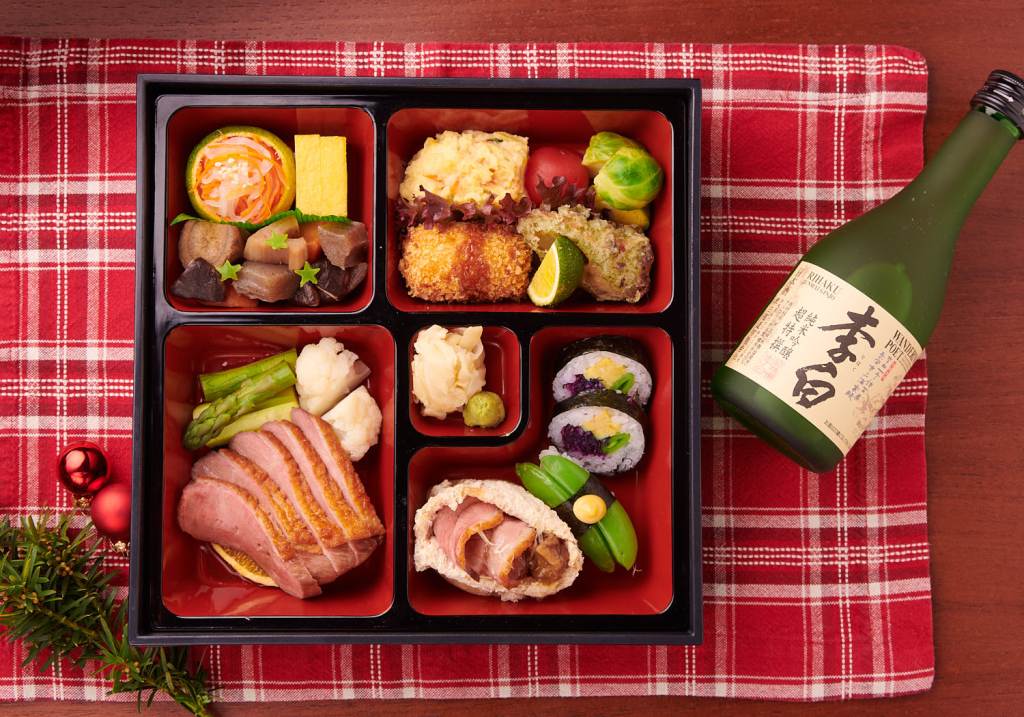 Please order the Christmas box in good time beforehand via our delivery service, for pickup or in Munich.
Tip: the discreet Japanese cuisine is perfect for the rich flavors of sake to enjoy in combination. We recommend especially for the Christmas box the small vials of Rihaku "Wandering Poet" or from Amabuki "Sky Wind" or "Rhododendron" .
UPDATE: Our Christmas Bento 2020 is unfortunately (almost) sold out due to many pre-orders. In the next few days we will inform about the New Year's Eve Specials and start the pre-order. Until then, we look forward to your sushi wish order over the Christmas holidays and are at noon & evening for you!
Here again all the details about the box, the exact cooking method and the chef's thoughts on it:
Christmas Bentō 2020 at sansaro: Japanese culinary art with regional ingredients
Since you unfortunately left us in the Restaurant sansaro can not come to visit on Christmas or Christmas holidays, we have prepared with our team a small Japanese Christmas Bentō, which you can pick up or order for delivery.
A Bentō, which contains various types of dishes in a takeout box divided into several parts, is a important part of Japanese food culture. In contrast to Germany, not everything necessarily has to be freshly reheated on the table - Japanese cooks know cooking methods that not only taste good freshly prepared, but also retain their deliciousness over time.
Let's take the forced opportunity to make the most of it: spend quiet days at home with a treasure chest from sansaro filled with delicious food![/vc_column_text][vc_column_text]
Small mixed appetizers in SUSHIYA Christmas Bentō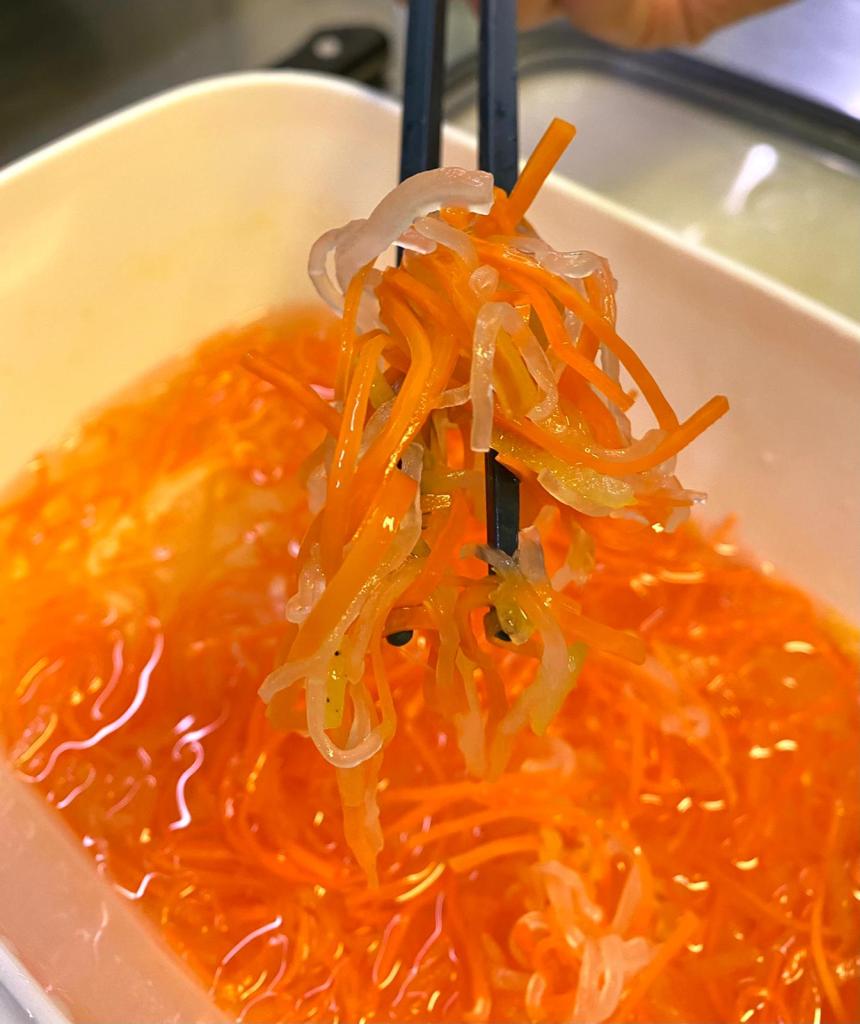 Kohaku Namasu is carrots cut into thin strips and white radish, marinated with sweet vinegar and spices - we put this combination in the hollowed shell of a fresh Yuzu Sudachi laid, which are now in season in Japan and add a refreshing, slightly tart and citrusy note to the festive vegetable strips.
As a festive meal, "Kohaku Namasu" is often served in Japanese cuisine, because the combination of the colors white & red automatically evokes a sense of festivity in Japanese people. Therefore, by the way, people in Japan like to try to use the colors white & red in both dishes and decorations when it comes to special ceremonies, celebrations, festivals. 
Onishime: Black salsify, carrots, konjaku and shiitake mushrooms are cooked in soup broth, soy sauce and sugar. As different ingredients are cooked in the same pot, cooking is symbolic with the wish that "the family will stay together and prosper for a long time". Meaningful, the Japanese - every vacation postcard is a secret 😉
Tamagoyaki (Japanese omelet): the soft taste of tamagoyaki softens the clear taste of the other two appetizers. Japanese love variety and diversity (that's why there is not one gigantic roast pork, but many small diversities) and therefore always like to incorporate small dishes that prepare or refresh the taste - we know this in sushi, for example, from the gari, the ginger, which is to be used individually between some clearly different sushi.
Fried food in the 2020 Christmas box:
Croquettes ("korokke" in Japanese, derived from the Japaneseized pronunciation of the French word croquette) are a very popular dish in Japanese cuisine today. For example, cream croquettes were a specialty of the more than century-old "Toyo-ken" restaurant in Tokyo when Chef Akiyama, the former chef to the Showa Emperor, was the chef there more than 65 years ago.  
Our Salmon cream croquette is based on a rich béchamel sauce and is made by loosening grilled salmon with a lot of handwork to achieve a deep flavor.
Chikuwa Tempura Isobe Style: Chikuwa is a traditional food made by wrapping fish paste around a stick like bamboo and cooking it. Written in Kanji, it means bamboo ring. Since there is a hole in the middle, it is considered an auspicious food that "looks to the future". The chikuwa was fried with a tempura batter full of green lavender flavor. The name "磯 辺, Isobe", which means "coast", comes from the fragrance of green lavender.
Japanese style potato salad: "Potato salad - the Germans' favorite dish at Weinhnachten at the Japanese restaurant?" some will be surprised. In fact, potato salad is so popular in Japan that there is even a "Japan Potato Salad Association" there. 
We made this small, delicate potato salad with mashed potatoes, cooked carrots, sliced cucumbers and fried onions with Japanese mayonnaise. The sweetness of the onions, carefully fried in butter, and the richness of the mayonnaise enhance the flavor.
We are curious to see how our German guests like the subtly Japanese potato salad!
"Ohitashi" means soaking ingredients in a liquid. It looks like a fairly simple dish, but we also invest time and love in the seemingly incidental side dishes to prepare them as well as possible.  
Our chef has used various small techniques to bring out the deliciousness not only of the color but also of the flavor of the ingredients. The vegetables are precooked, peeled and soaked in the soup broth for two days. The smooth Japanese flavor nestles easily into the vegetables and the delicate flavor spreads in the mouth to subtly support the other ingredients. The vegetables processed with Ohitashi support the fried components of the box as a side dish.
For Christmas duck with sudachi teriyaki sauce
So to speak, the pink roasted duck breast acts as a small main course in the Christmas Bento Box - because similar to Germany at Christmas, people love duck meat in Japan. We grill the crust of the duck breast and give dazz a homemade sauce made from the juice of fresh (!) Sudachi and some teriyaki - and as always Japanese, we do not want to drown the duck in sauce, but just gently accompany it. The refreshing and gentle acidity of Sudachi, a special Japanese citrus fruit, further enhances the deliciousness of the duck.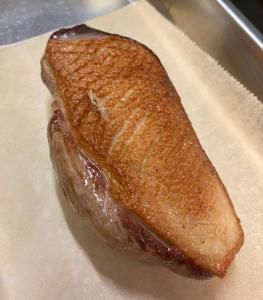 Sushi
Do you know Soba-Inari?
Usually, inari contains the mildly soured sushi rice in sweet and salty aburaage (fried bean card bag).
But in our special Christmas box, we offer an inari with soba (buckwheat noodles).
As may already be common knowledge, buckwheat is a healthy food with a high balance of amino acids. Therefore, soba inari has fewer calories compared to "normal" inari. The taste of soba and aburaage is wonderful, and the perfect combination is completed by slowly cooking the jelly of duck soup broth and duck over time.
Please enjoy the Soba Inari, which is rare in Munich.
Sugar snap pea nigiri: Sugar snap peas are a variation of the peas widely known in Germany. The pod always stays crunchy and you can eat them whole, they have a sweet and slightly crispy texture that complements well with the mildly soured sushi rice. Topped with a very small drop of mustard mayonnaise.
Red cabbage is in season now - we've carefully seasoned in and combined it with egg drop and snap pea in a seasonal, almost German-style sushi roll. 
Sushi made with vegetables perfectly suits the stomach, which has become a little heavier with the main course of meat.
Attention: the number of pieces of the special boxes is limited!
You can order the Christmas Bento Box now for delivery or pickup in the SUSHIYA webshop. We recommend pre-ordering because the number of pieces is limited and we don't have that much experience with Christmas in Lockdown yet 😉.
In the meantime follow us on Facebook or Instagram to be informed as soon as something happens!
Sansaroはあなたの聖なる夜を彩るクリスマス弁当をご用意いたしました。
遠く離れた日本を懐かしく思い出して頂けるお料理から、今が旬の食材を使ったモダンな味付けの物まで、一品一品料理人が心を込めて仕上げました。
前菜盛り: 柚子釜入り紅白なます、玉子焼き、お煮しめ
揚げ物: 料理長特製サーモンクリームコロッケ、竹輪磯辺揚げ、こだわりポテトサラダ、野菜のおひたし
メイン: 鴨ステーキ 特製酢橘照り焼きソース
お寿司: 鴨蕎麦稲荷、スナップえんどうの握り、野菜の巻き寿司
ご満足頂けること間違いなしのお弁当です。
デリバリー、或いはお持ち帰りのいずれも可能です。
お気軽に日本語でお問い合わせください。
Sansaroチーム一同、皆様のご注文を心よりお待ち申し上げております。