Finally, in August 2020 there is the long-awaited new menu in the Japanese restaurant sansaro. And of course we set new accents especially in the area of sushi and increase our quality again.
NEW MENU IN RESTAURANT SANSARO AS OF AUGUST 2020
The last few months of 2019 have been busy not only in the daily evening operations at our sansaro restaurant: our small team has also been busy serving an unprecedented number of guests on New Year's Eve and Valentine's Day with exceptionally creative, special menus. For many years, these evenings have been the culinary highlight of the year for us and the special dishes are a lot of fun for our team. And if the feedback from our guests is to be believed, we have constantly improved over the years and recently delivered great, interesting little gastronomic experiences. We want to continue on this path and with these thoughts our team has already spent the whole of 2020 working on a new menu.
THE MAIN CHANGE TO THE MENU IN SANSARO 2020:
Where we have already much organic and high quality ingredients we will continue to strengthen this trend and try to provide our guests with seasonal menus and daily menus even easier and more exciting access to Japanese cuisine.
We will take you on a culinary journey to Japan - but remain the tried and true place to go for high-quality Japanese cuisine at a fair price for à la carte customers who want to choose for themselves or just want to get their fill on a budget.
NEW STARTERS "UNAGI SHIRAYAKI"
Our appetizer menu now features a small Salmon tartar, of course, as always with us with salmon "Label Rouge", for higher quality and more sustainability.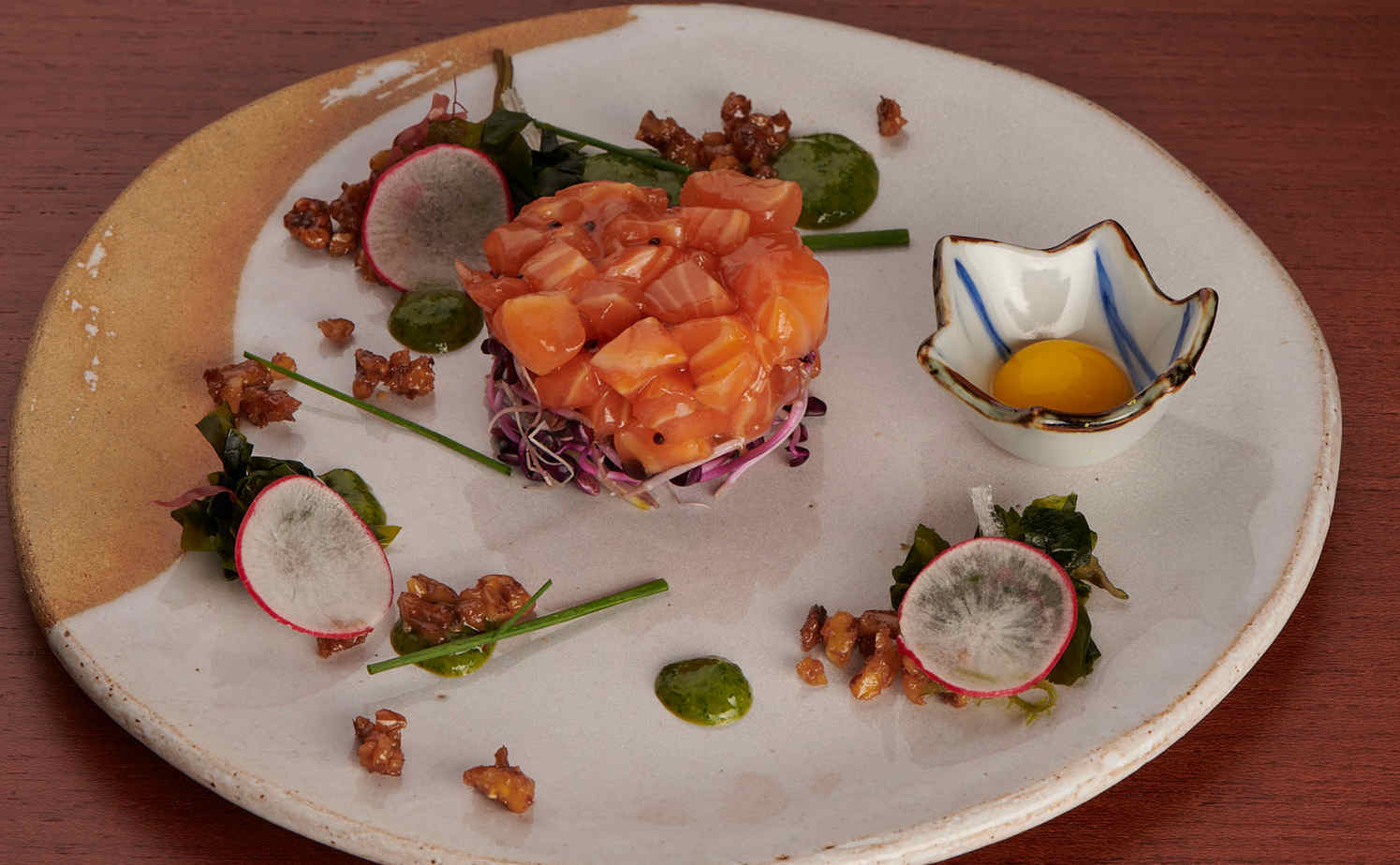 We are particularly proud of the "Unagi Shirayaki" - Shirayaki is a special traditional way of preparing river eel.. The is elaborately dissected in our house, steamed and can already be found on our menu as nigiri for connoisseurs since about 2017. Now we have made a small appetizer from the noble, sometimes scarce good, where the product speaks for itself. More about the preparation of the eel we will soon elaborate in our blog, for now likes this article about japanese eel already be interesting.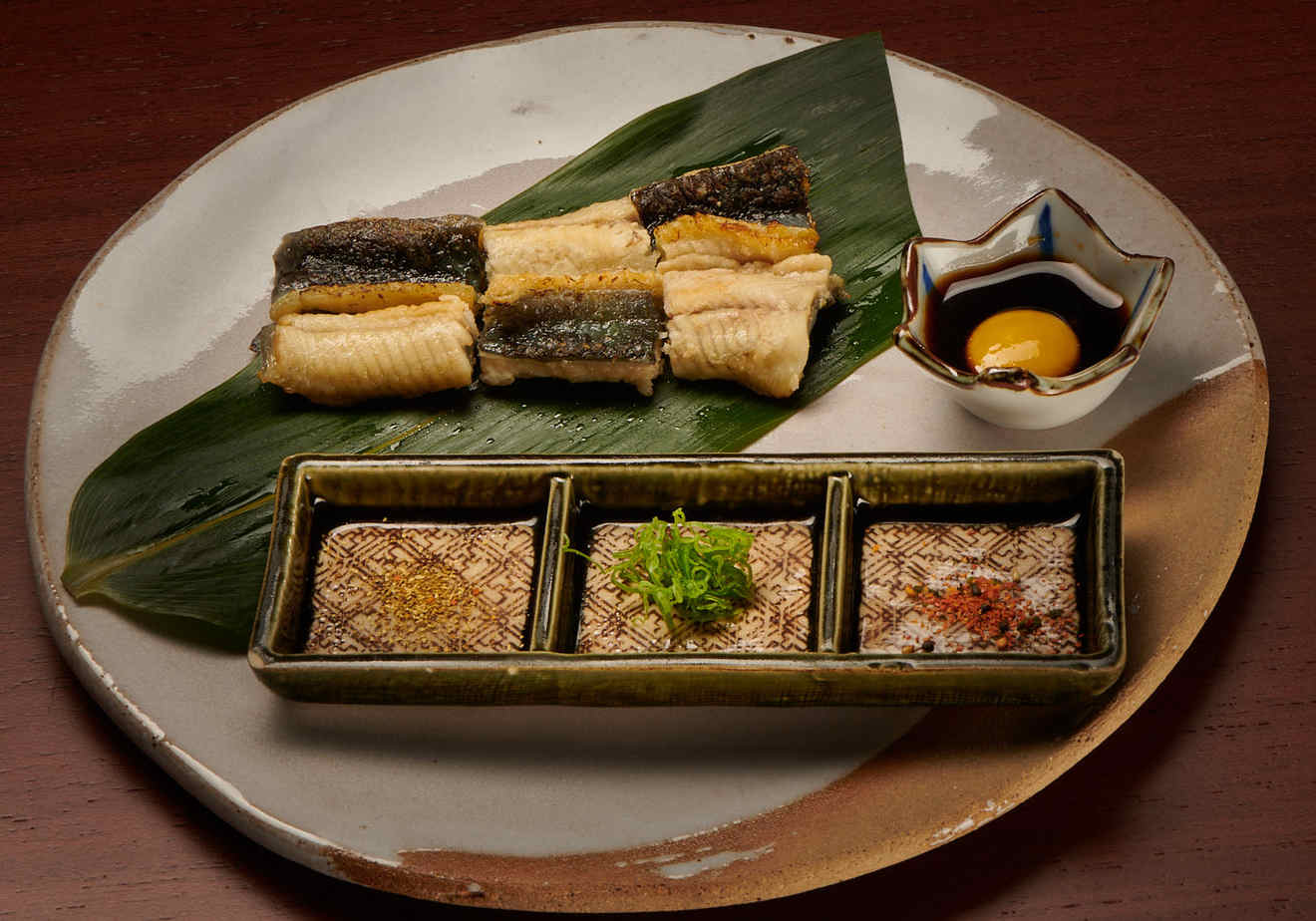 Since we have been purchasing mainly Balfego or wild-caught tuna for a good year, we have not only been able to further increase our quality, but unfortunately the purchase prices for tuna have also risen considerably. However, we still consider this to be the right way to focus on the highest possible quality and sustainability - especially important when it comes to tuna! The taste is also worth it and so we know that our tuna sashimi has become significantly more expensive, but still offers a very fair price for the customer even in the new menu. By the way, important for the price comparison is that our sashimi and nigiri are made from bluefin tuna.
So far very popular was already the Sashimi Nishu with salmon & tuna - now there is instead the Sashimi Sanshu, which also includes our excellent Hiramasa (yellowtail mackerel).
Particular emphasis was placed on the new card, the Nigiri selection and quality We are looking forward to even more Japanese focus mixed with regional quality!
Particularly noteworthy is the Black Cod Nigiri - an absolute hit - because Black Cod is rarely available in sashimi quality worldwide.
Not worldwide, but regionally bred is the "Bavarian shrimp", which is a very fishy, real alternative to the previously already cooked shrimp "Ebi" to choose from.
GUNKAN SUSHI - POPULAR SPECIALTY
Gunkan have always been on our menu - they are a popular specialty in classic sushi restaurants.
Now we have a few great new varieties on the menu and dedicate a separate category to gunkan, the "shuttle sushi". For the first time, we're including natto on the menu - the highly fermented soybeans are only something for Japan lovers. Japanese love it, for many German (like our boss) it tastes ...very unusual.
But a hot tip for all is the "Maguro Tartar Gunkan" with organic quail egg - a real delicacy. Bavarian shrimp also makes a very good gunkan. Just try it out! Attention: Gunkan are not good for take out!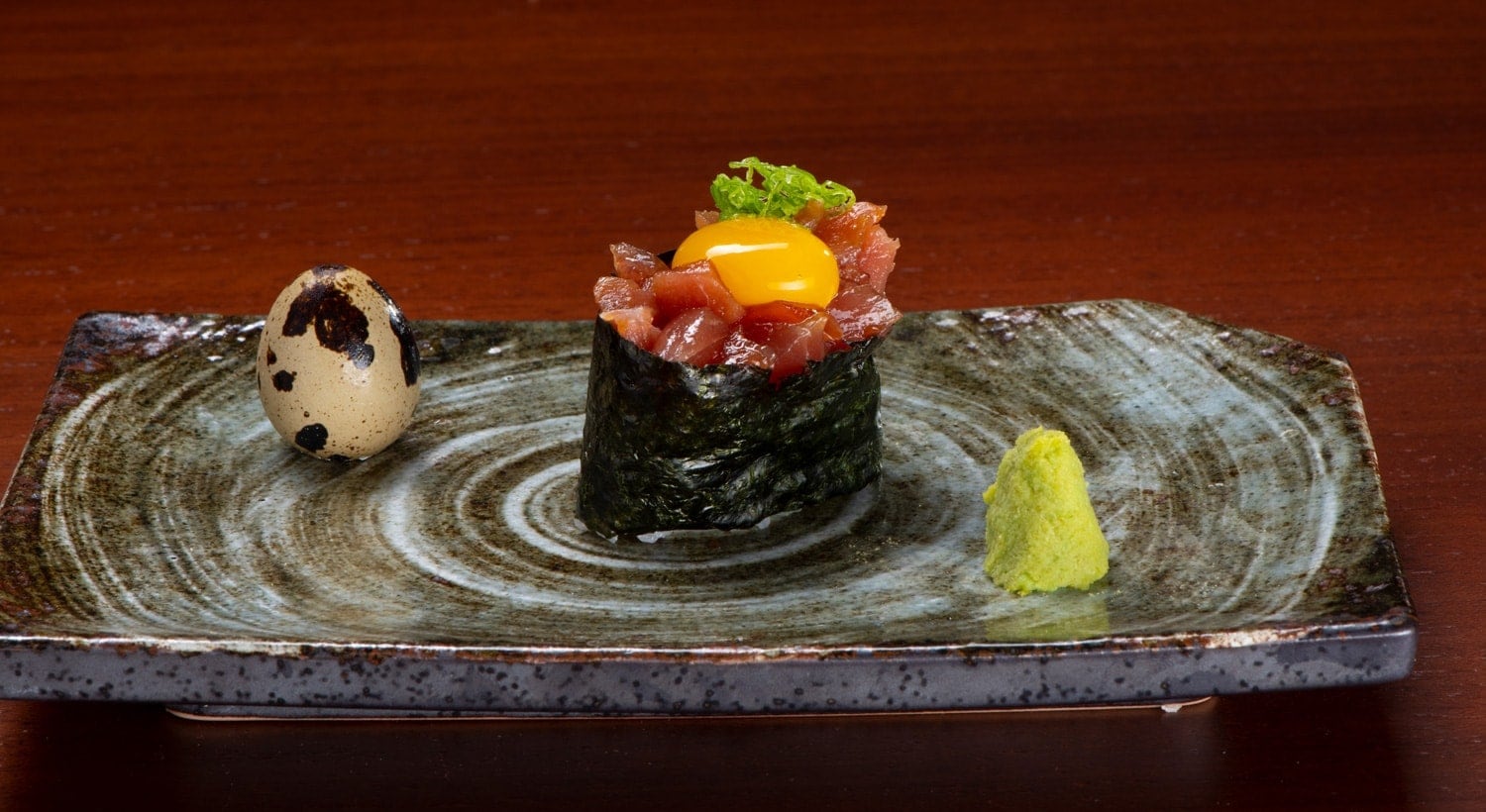 EVEN MORE ORGANIC IN SUSHI FROM SANSARO
For years, we have been using as much organic produce as possible in front of and behind the scenes - in places that the guest may not even notice. To our knowledge, there is no other sushi restaurant in Germany that uses organic products at all. We have gone a significant step further and are from now on Organic certified by the control body DE-ÖKO-006. And even where there is no organic, we focus on the highest quality: salmon "Label Rouge", Balfego or wild-caught tuna of the highest quality - all this is available in the sansaro and the our customers have known for a long time. We also rely on brands known to be sustainable in the area of cleaning agents and disinfectants, and even our electricity has been green electricity since 2011. This means that the Sushiwhat you get from us is a little more expensive than elsewhere - but it is the right way from our point of view.
In the course of the new menu, we also decided to do without one or the other dish, which was popular with our customers, but for us no longer fits into the high quality standards that we apply to sushi.
For example, we do not use the very popular seaweed salad "Goma-Hiyashi-Wakame", on the one hand with a heavy heart, because many customers love it, on the other hand out of clear conviction, because these seaweed salads are full of endless additives. Likewise, we have somewhat shortened our assortment of soups and starters and main courses in order to be able to concentrate on the essentials and offer you interesting seasonal menus and daily menus every now and then. For this reason, we have also significantly reduced the selection of sushi platters: in fact, they are a sad auxiliary construction that make the selection easier, but dull our cooks and our guests. Instead, explore our great, wide-ranging selection of à la carte sushi and the daily menus and seasonal menus that will appear more often in the future! And if you can't do it yourself, there are still three possible sushi plates hiding in the back of the new menu.... 😉
NEW DESSERT MADE IN JAPAN
Our pâtissière, who has been responsible for many great desserts over the past 12 months and even once brought the food inspector, who is a trained pastry chef, to enthusiastic praise during an incognito visit, has a small new Dessert Sanshu developed: a trio of different, typically Japanese ingredients. Try the change from the Japanese taste of a shirtama with matcha and anko (the famous red bean jelly), small ice cream and homemade sake fruit jelly that changes seasonally. The other very popular desserts remain with us, especially the dessert "The whims of the chefs", the ever-changing daily dessert which gives humorous insight into the everyday life of our top staff tamer for years and culinary into the most diverse taste worlds between France, New York and Tōkyō.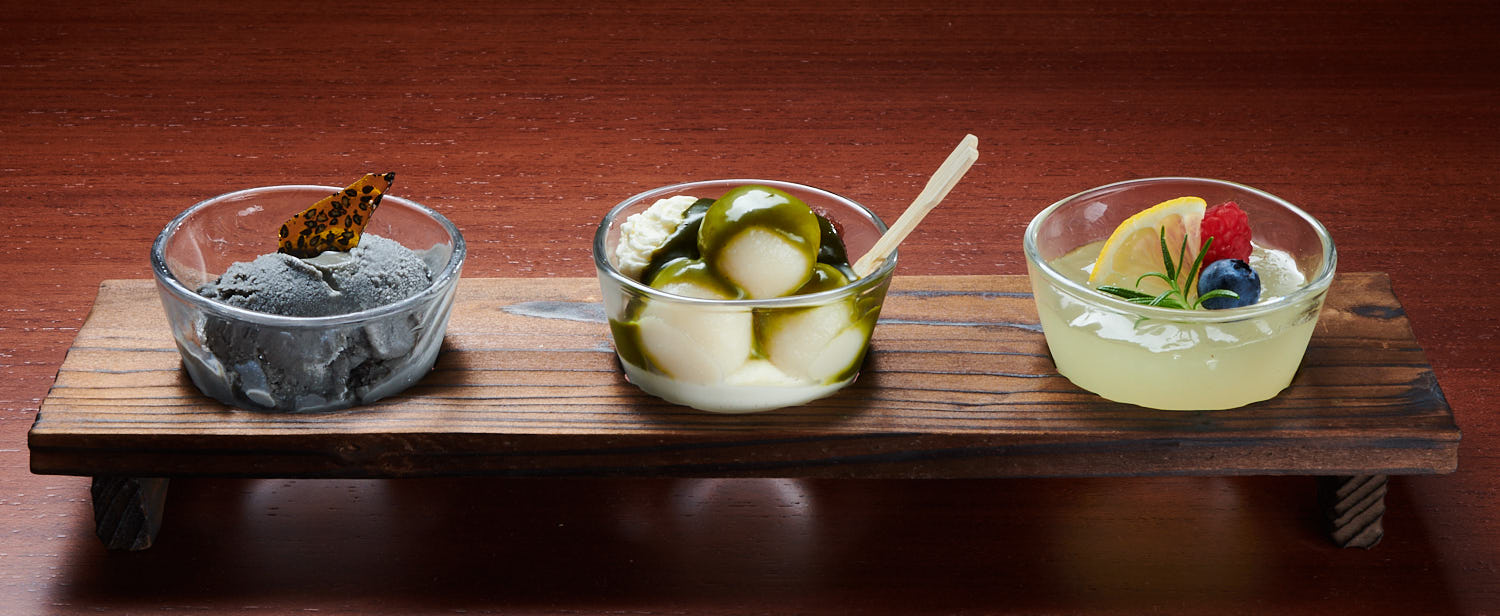 In the future, we plan to supplement this menu more and more often with special offers, seasonal specials and small menus that will take you on a journey to Japan. We are especially looking forward to you continuing to trust us when we say you can't miss these seasonal menus. The new menu is the foundation for this - and of course fits perfectly with our incomparable Sake-Selection. If you have suggestions for our map, we look forward to hearing from you as always!