What does SUSHIYA stand for?
"SUSHIYA" is, as it used to be on our various homepages over the years, simply a Japanese word for "sushi store" or "sushi store". It is the compound of "sushi" (寿司) and "ya" (屋) for store.
It could also be translated as the modern term sushi bar, since in Japan the classic, high-end sushi restaurants always have the character of a bar: you sit at a counter where you are more or less attended to by a chef who is Sushi makes. The is also known in Japan as Itamae (板前), literally translated as "the person in front of the board". In German, by the way, this is often translated as sushi master, but this now feels a bit problematic for experts, because by far not everyone who stands behind any counters in Germany is actually a Japanese Sushi Master. In fact, today you're lucky if it's a trained Japanese chef at all - a true sushi master is usually hard to find. 
And the path from wakiita, i.e. the person who is only "close to the cutting board", i.e. initially only allowed to make preparations, to itamae is actually very long and - typically Japanese - first means years of basic work.
Real sushi masters - rare in Munich
When we Founded SUSHIYA GmbH at the end of 2005 we knew of 3 or 4 real sushi masters in Munich. One of them was our first chef Yuri Yagawa, who had actually undergone many years of training in a specialized sushi bar in Hokkaidō.
Today, some of the sushi masters from Munich at that time are gone (for example Joe Udawara, who had the restaurant Wasabi in Volkartstraße in the very past, where a small Japanese store for noodle soups called "AOI Ramen" is inside now). 
Other experienced Japanese chefs, on the other hand, can now be called sushi masters, so to speak, even if they never underwent the formal training in Japan. The fact that in Japan an "apprenticeship" to become a sushi master is something different from a formal apprenticeship in Germany is another matter: You don't go to school and take exams and the like, but you learn a lot from your old masters in the Japanese way, by copying, "stealing with your eyes" is also what they call it in Japan, by humbly going through all the stages for years. In return, however, you don't jump from company to company as blithely as young cooks often do in Germany.
Our company name: SUSHIYA
We chose SUSHIYA as the company name at that time, because the name was free, but in the German language not everyone knows it as a technical term for sushi restaurants (just as not very few people in Germany say they go to "Midori no Madoguchi" when they want to buy a train ticket). 
And our thought was: we want to take care of the Variety of Japanese cuisine and are also enthusiastic about the culture behind it - but need a good name that can be remembered, pronounced and that also reflects our enthusiasm and passion for sushi. 
This is how SUSHIYA GmbH came to be founded in Munich in 2005 by Alexander Reinelt and a few brave friends. 
In Munich, SUSHIYA thus stands for a authentic interpretation of Japanese cuisine, in a quality you can rely on.
Opening of the restaurant sansaro in the Amalienpassage 2007
The restaurant itself was then named "SUSHIYA sansaro" because it was our Honten (本店), our main place, where the sushi for our SUSHIYA BENTO SHOP was also produced. 
Sansaro means 3 way intersection, actually an atypical term for a Japanese restaurant, a technical and not very lyrical word. It was an idea of our second chef at the time, Ken Sugawara, who aptly remarked that the restaurant in the Amalienpassage is located at the intersection of Türkenstraße, Amalienstraße and a small side passage from Adalbertstraße.
Restaurant sansaro a place where you can meet Japan
From this then became for us the inner picture that the restaurant sansaro should be a place where many people can come together, where paths meet, a place that is open to the most diverse people and where you can meet Japan. This resulted in a double name "SUSHIYA sansaro", which is still with us today.
And indeed, in the restaurant sansaro we are not only pleased with the countless ratings for the highest quality, but also with a very diverse, heterogeneous audience: from young students who make themselves comfortable on the tatami, to business meetings of consulting agencies, to grandparents who also want to "try this sushi" and need competent advice.
We deliberately avoid kitsch, pictures of Fuji-san on the walls and knick-knacks, as we take great pains to interpret Japanese cuisine architecturally, culinarily and culturally and to translate it for our guests, thereby making it tangible.
What was the SUSHIYA BENTO SHOP?
Before opening the sansaro restaurant, SUSHIYA sold takeaway sushi in Munich at the SUSHIYA BENTO SHOP at Altheimer Eck 1 from the beginning of 2006 until the end of 2009.
That was our entry into the sushi business in Munich - because earlier Alexander Reinelt together with Takaagi Sano from the restaurant Minami in Josephspitalstr. 4 had opened the SUSHI SANO and later founded SUSHI SANO GmbH together with him. But we will tell the story in another place.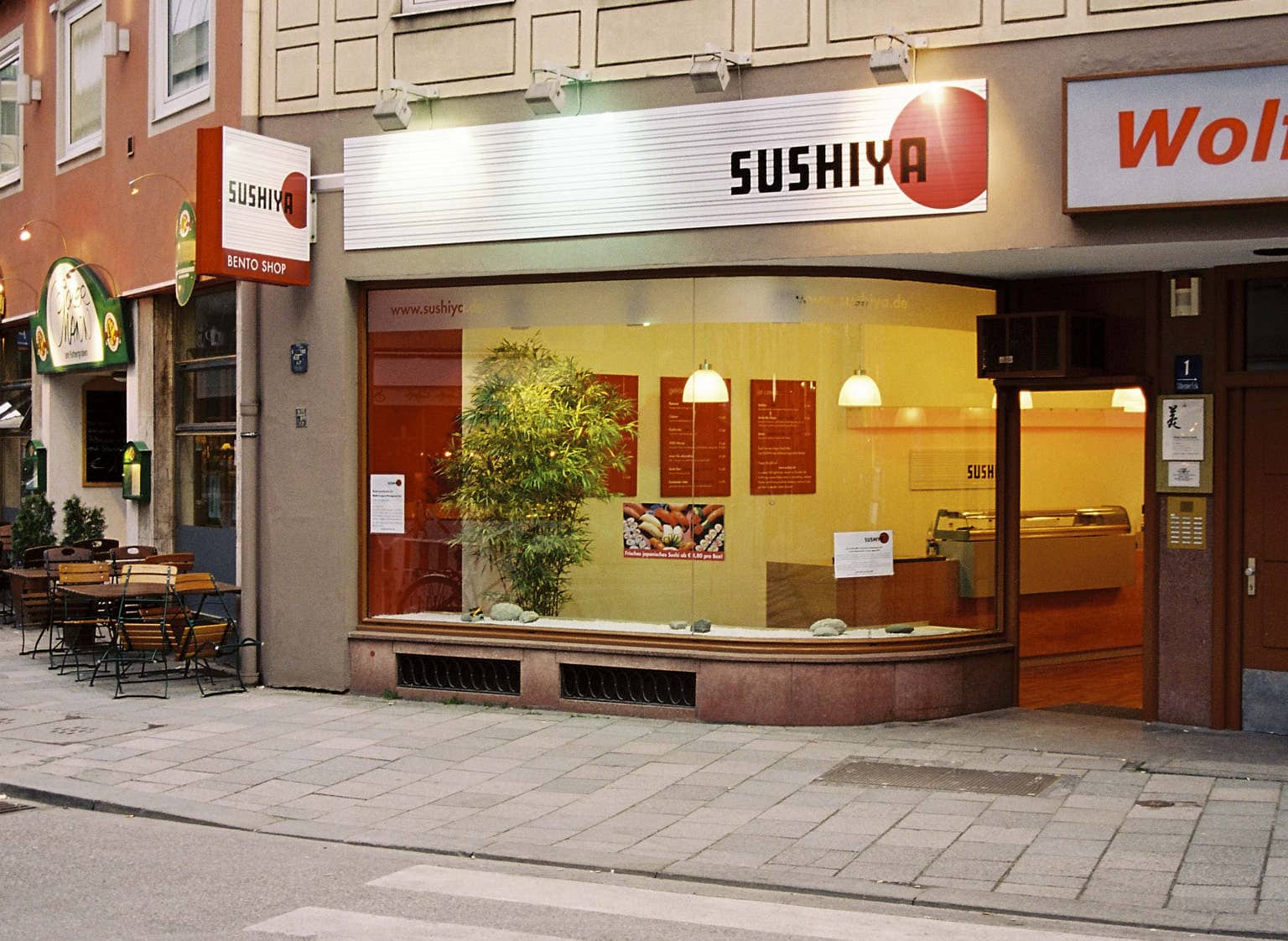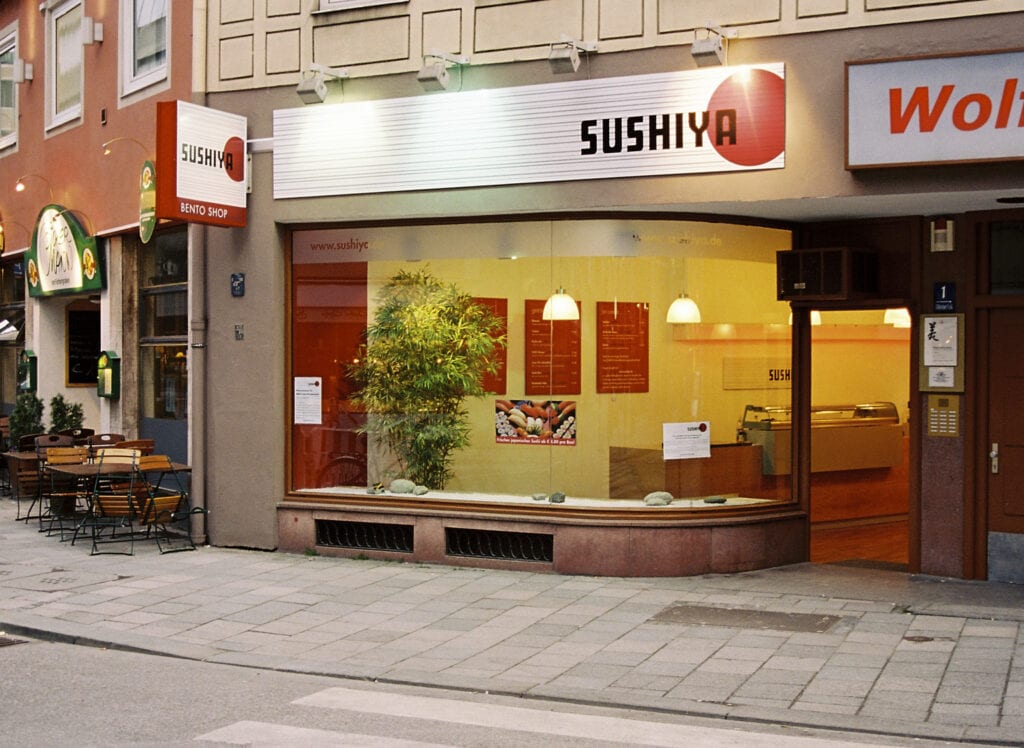 Sushi to go in the city center from 2006
In any case, the idea of offering high-quality takeaway sushi was to become synonymous with reliable quality around Japanese food. 
The SUSHIYA BENTO STORE directly in the city center was to become the first of a series of stores built around our restaurant. 
Again and again it was fascinating for us to experience how customers came into the store, looked through our offer critically and incredulously. Many left again, some had tried it. Unforgettable when the customers sat against the wall, ate the sushi and suddenly turned around: "I worked in Japan for 5 years! This tastes just like in Japan!". We were really proud then, of course.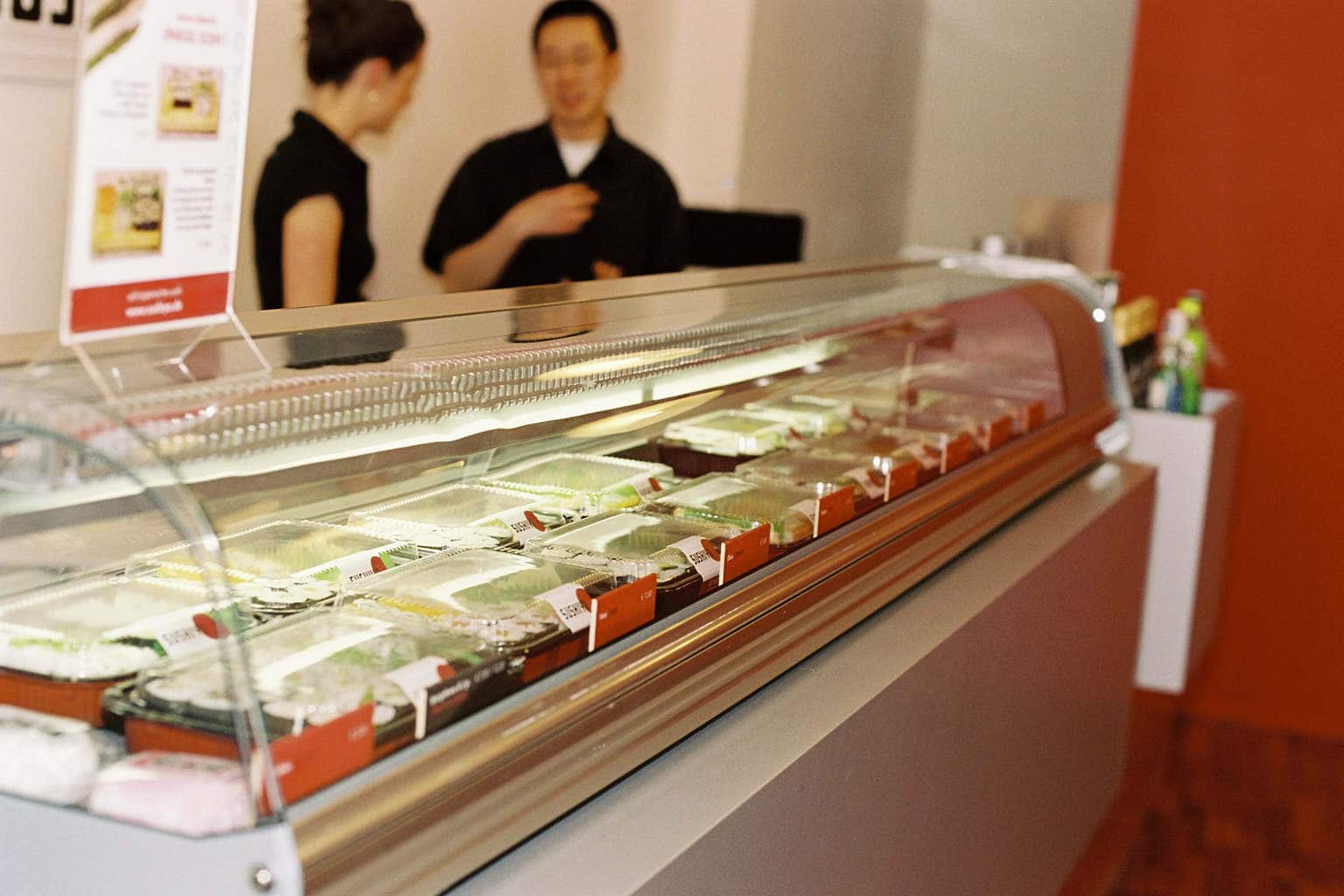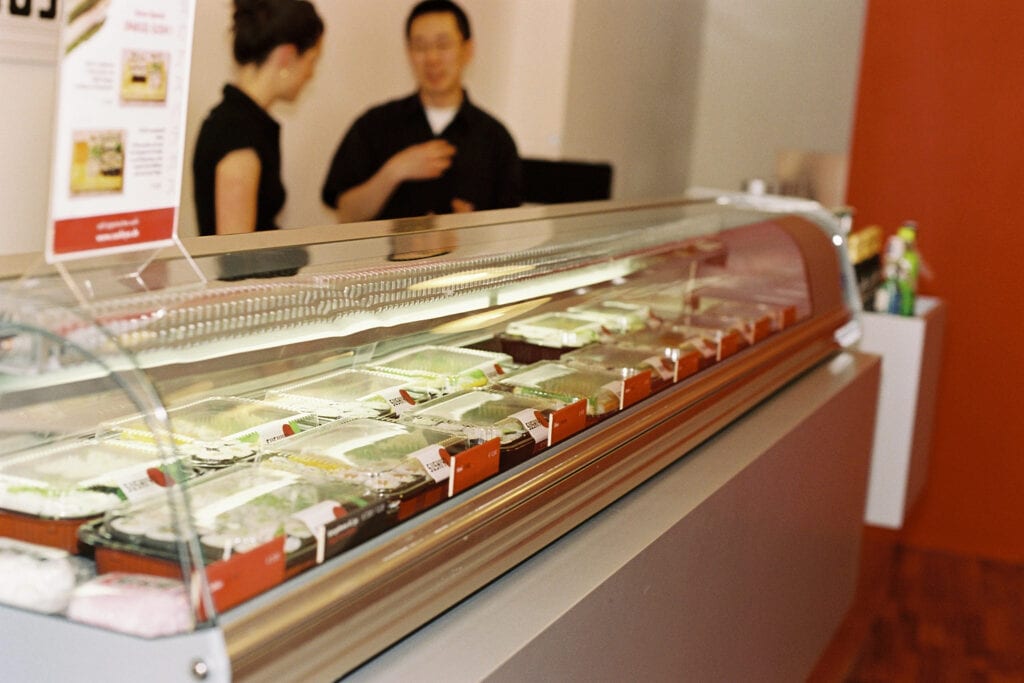 Recognition and support of the Japanese community
And most importantly, we were also grateful for the support of the Japanese community in Munich. Right next to our SUSHIYA BENTO SHOP was the main Mikado bead store in Munich. The Japanese owner Kobayashi Oba-chan (affectionate Japanese form for "Grandma Kobayashi") knew SUSHIYA founder Alexander Reinelt for many years as a sushi enthusiastic regular customer of her second floor grocery store and through his involvement with SUSHI SANO in 1999-2004.
So we were especially proud of the encouragement and support from Grandma Kobayashi, who was already a special authority in the Munich Japanese community, often shopped with us, and was immediately convinced of the success of our restaurant simply because of the addition of second chef Ken Sugawara.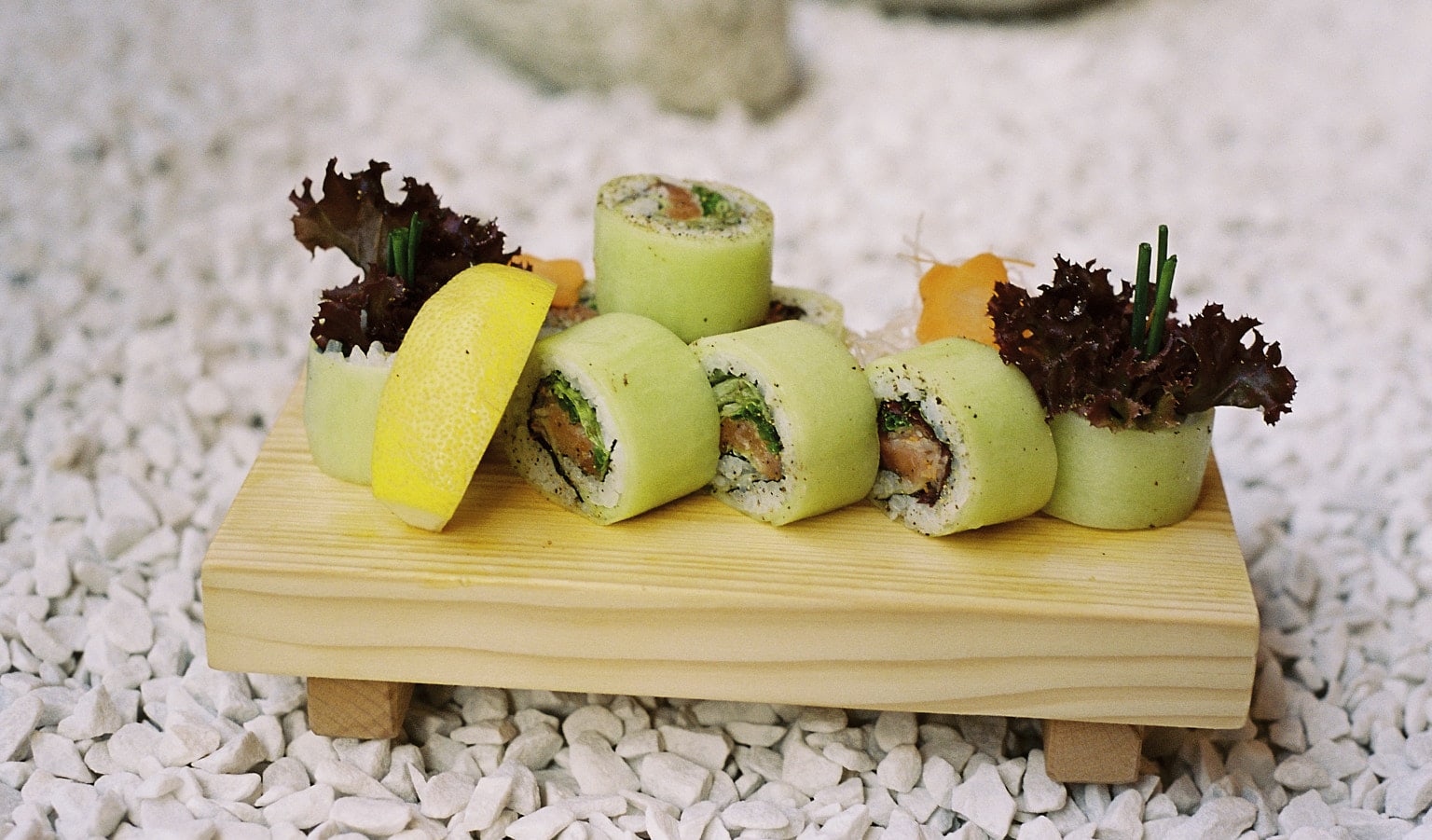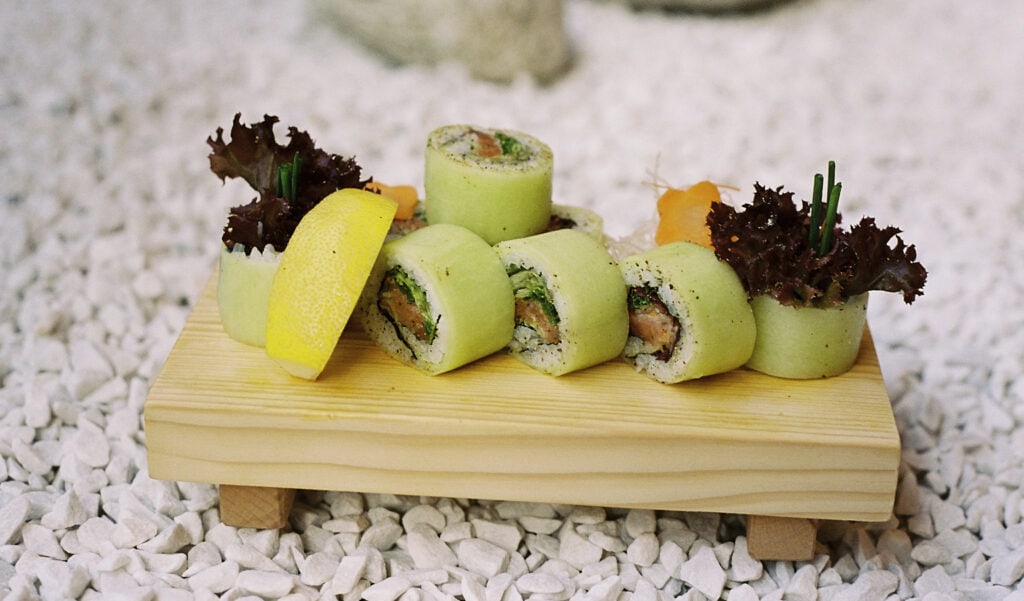 SUSHIYA BENTO SHOP closed at the end of 2009
When, after a few years, we decided to close the BENTO SHOP downtown in view of the large, planned Reconstruction of the "Süddeutsche Zeitung" area (now Hofstatt), Mrs. Kobayashi took over our store as the neighboring house with the bead store and Japanese grocery store was completely renovated. 
The pearl store was then located for some time at Altheimer Eck 10, the japanese grocery store In the meantime, Grandma Kobayashi, who was already of an extremely sprightly age at that time, is presumably in Japan in her well-deserved retirement and grocery stores and bead store are now run by successors.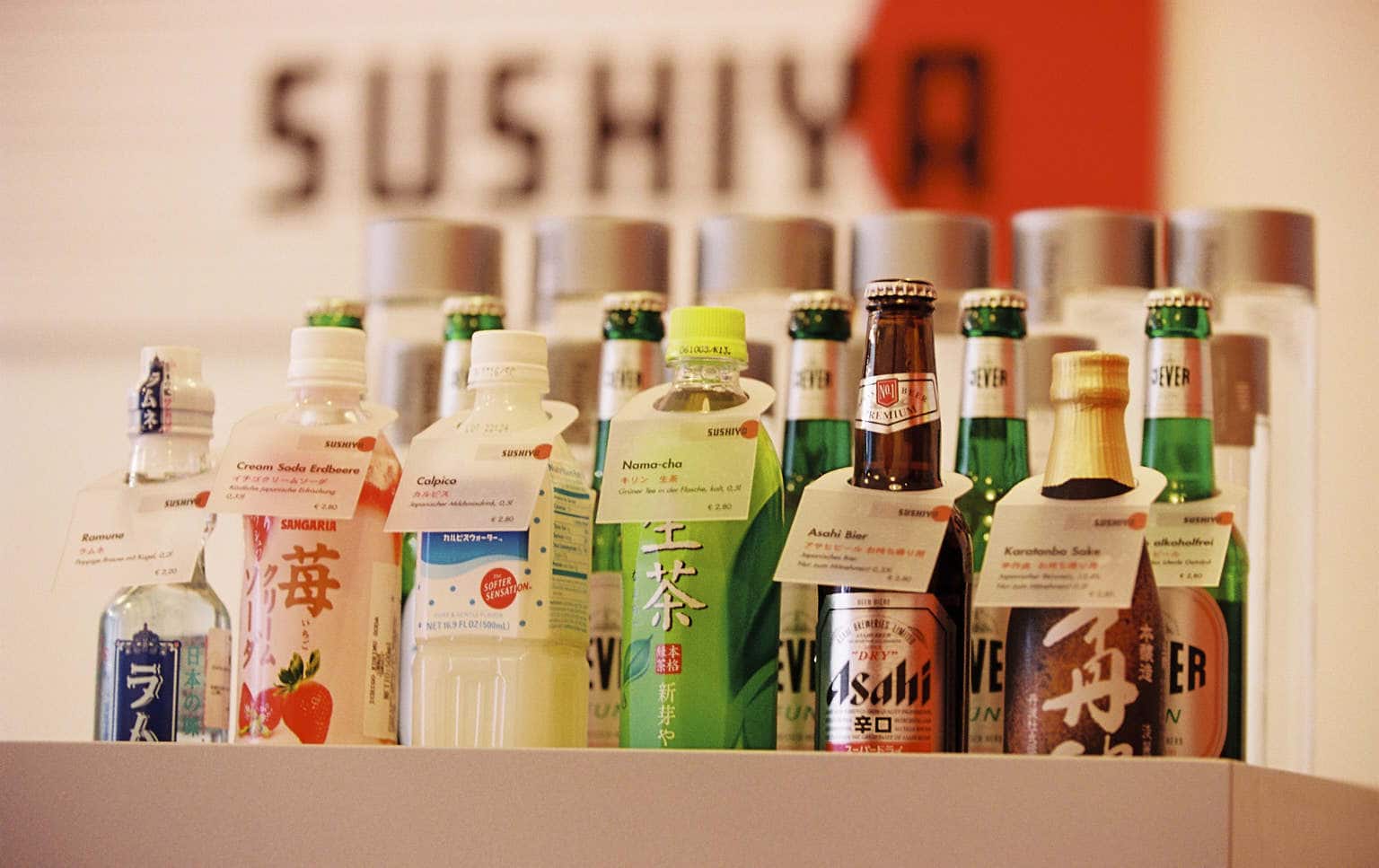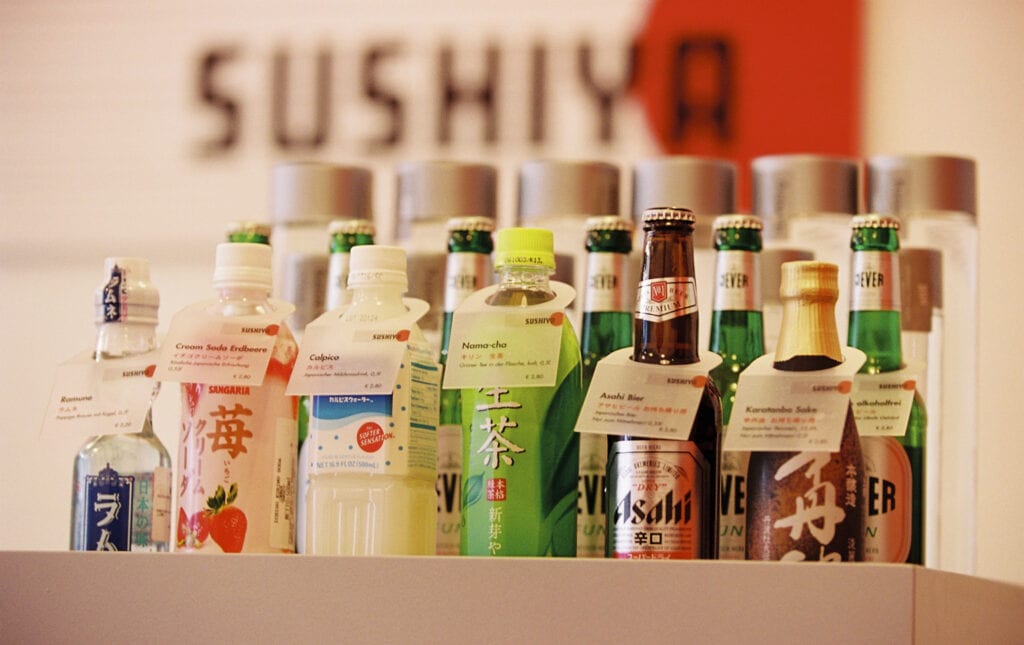 What is SUSHIYA BENTO in Lindwurmstraße?
After we had closed the SUSHIYA BENTO SHOP in 2009 and concentrated on our restaurant SUSHIYA sansaro in the Amalienpassage, we were quite surprised when we suddenly heard in 2010 that in the Lindwurmstraße in Munich a restaurant named "SUSHIYA BENTO" would have opened.
To be clear: we have nothing to do with this restaurant!
"SUSHIYA BENTO" was never part of SUSHIYA, we are not affiliated in any way and we don't know the staff there from the Munich sushi scene. 
But we can say that we find it very strange when someone names their restaurant directly after a store we closed a year before. Something like that doesn't happen by chance or by accident. It is obvious that someone wanted to profit from the good name we had built up. That is not Japanese behavior.
To this day, we often experience the confusion of customers who believe that the SUSHIYA BENTO in the Lindwurmstraße would be a branch of SUSHIYA. 
Bentō (弁当) is in itself a Japanese name for takeaway food. 
Around the different types of Bentō, in Germany often also used with the actually nonsensical but well naturalized double Bentō-Box, there is an impressive culture in Japan. Typically there is, for example, the Eki-Ben, derived from Eki = station. Often, each regional station has its own special regional Bentō. 
Bentō is by no means limited to sushi; on the contrary, in Japan you don't usually think of sushi when you hear Bentō. There is also sushi Bentō, but overall the world of Bentō in Japan is varied and wide and always has to do with a food being served in a takeaway box, not on plates like you would use in a restaurant.
In our Restaurant sansaro you can always experience special seasonal Bentō, which we offer in typical Japanese boxes for our guests on special occasions. 
More interesting background info about Japanese Bentō, about Sushi, about Sake and many other varieties and ingredients of Japanese cuisine you will find in our blog and on our homepage.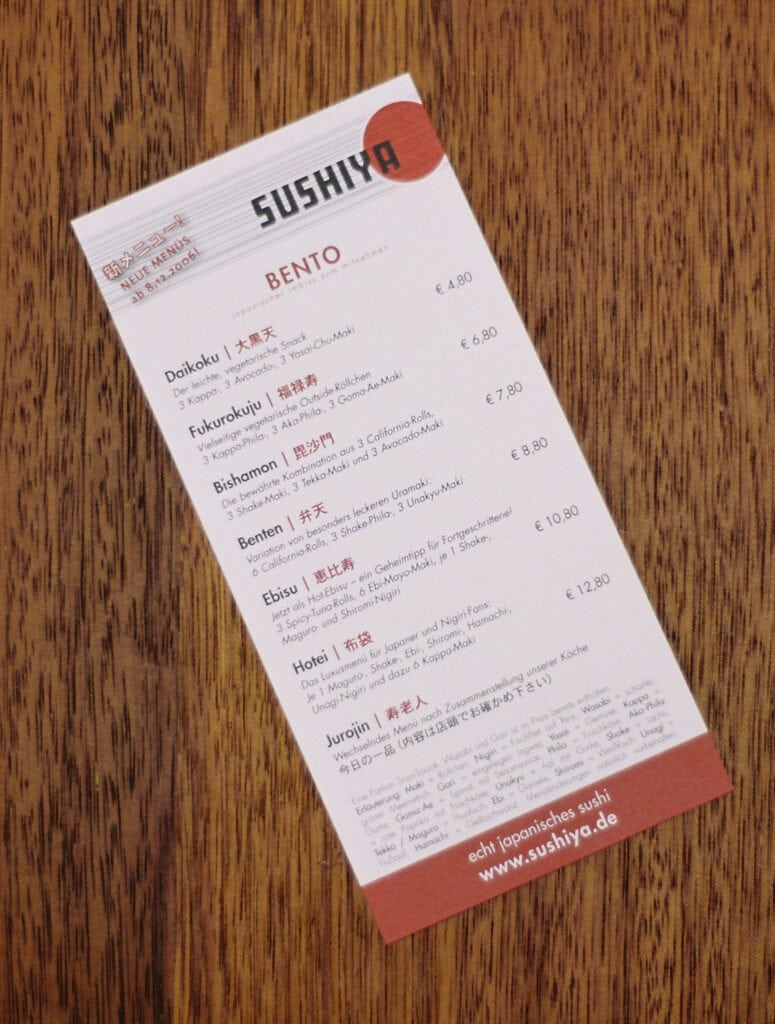 More about Sushi & Japanese Cuisine in Munich