At SUSHIYA, we love Japanese cuisine - not only in our own Restaurant sansarobut also as customers who enjoy good Japanese food. In 2022, as part of the research we are doing on our comprehensive guide about sashimi an interesting observation:
There are hardly more sashimi Moriawase, i.e. the royal class of a mixed sashimi made of different kinds of fish, in excellent quality in Munich. 
On offer are mostly highly simplified arrangements of a few types of fish, increasingly spiced up with an supposedly great presentation on dry ice.
Only a few restaurants in Munich offer (good) Sashimi Moriawase
This is then called "Sashimi on the rocks" or otherwise - but is no longer a real Sashimi Moriawase.
The reason is clear: to make a really good sashimi Moriawase, from many types of fish, really takes time. 
Numerous different fish fillets must first be prepared, processed - and then all individually assembled into sashimi. 
When many orders come in, the waiting time for all guests increases. The German guest doesn't like that, after all, it's much faster at the Italian, Greek and the expensive "sushi" restaurant where he usually goes and everything goes according to his wishes. 
And even in fine dining and star cuisine, some starters and main courses are assembled much faster than a good Sashimi Moriawase can be freshly prepared for the guest! So dissatisfaction quickly emerges, but unfortunately it is fed by ignorance of Japanese cuisine.
Sashimi from a few varieties and from the kit
Modern, visually impressive and well-organized posh restaurants avoid this by simply assembling a sashimi from three or four fish worries, arranged as simply as possible and possibly even pre-cut uniformly beforehand. 
In this way, even the inexperienced chef can make the sashimi to the standard of the house, the sushi bar is not blocked for too long, the guests do not have to wait too long and the turnover is made. And the guest, who has not studied it particularly deeply, is fobbed off with effects from the bag of tricks, which can be arranged simply and cheaply and do not challenge the chef again with every cut, with every fish and every garnish to the sashimi.
This, of course, also has to do with what Munich customers want: preferably only salmon, tuna and perhaps yellowtail (hamachi) - the rest is usually suspect to Germans, who are not so used to raw fish from their own kitchens. 
At the same time, just a comprehensive sashimi Moriawase with Correct prepared fish such as Ika, Tako etc. its special charm. 
If you get a good sashimi Moriawase somewhere, it is worth a lot of appreciation and recognition!
Which sashimi can we recommend in Munich after our extensive study of the subject?
Where is the best sashimi in Munich?
The best sashimi in Munich can be found at the restaurant sansaro.
Let's put it very simply like this 😉
All kidding aside: it was only when we delved deeper into the subject of sashimi for our extensive article on sashimi and the associated trip through all sorts of sushi restaurants in Munich that we realized just how much detail goes into the sashimi you get at Restaurant sansaro.
The best fish at sashimi in sansaro
For many years now, at sansaro Restaurant, we have always chosen to buy the best fish possible. We are always looking for new suppliers or better qualities. This leads to Balfego tuna, which is only available in a few restaurants in Munich and which has unfortunately experienced an absurd price increase in recent years. And it leads to innovations like fresh hamachi from Japan, salmon "Label Rouge" instead of cheap salmon from Chile or from the wholesale gastronomy market and so on and so forth. 
By the way, interesting topic on the side: with salmon Label Rouge output is much lower than the cheap farmed salmon from the wholesale market, because the fish are somewhat smaller, less fleshy. This also means: to get the same amount, the kitchen has to descale, debone and fillet more salmon on balance. More about this elsewhere.
Loving arrangement and skilled craftsmanship
But the best fish alone is no guarantee of good sashimi - it takes experienced chefs who know what they are doing. 
It is not simply cut down the same thickness "slices" of fish - almost every fish has its own cut, depending on the consistency, texture, taste of the fish. 
The taste in Japanese cuisine comes from cutting. And the arrangement is complemented by beautiful suitable side dishes to the sashimi (tsuma), the preparation of which itself requires a good, experienced chef and which specifically serve the arrangement visually and taste.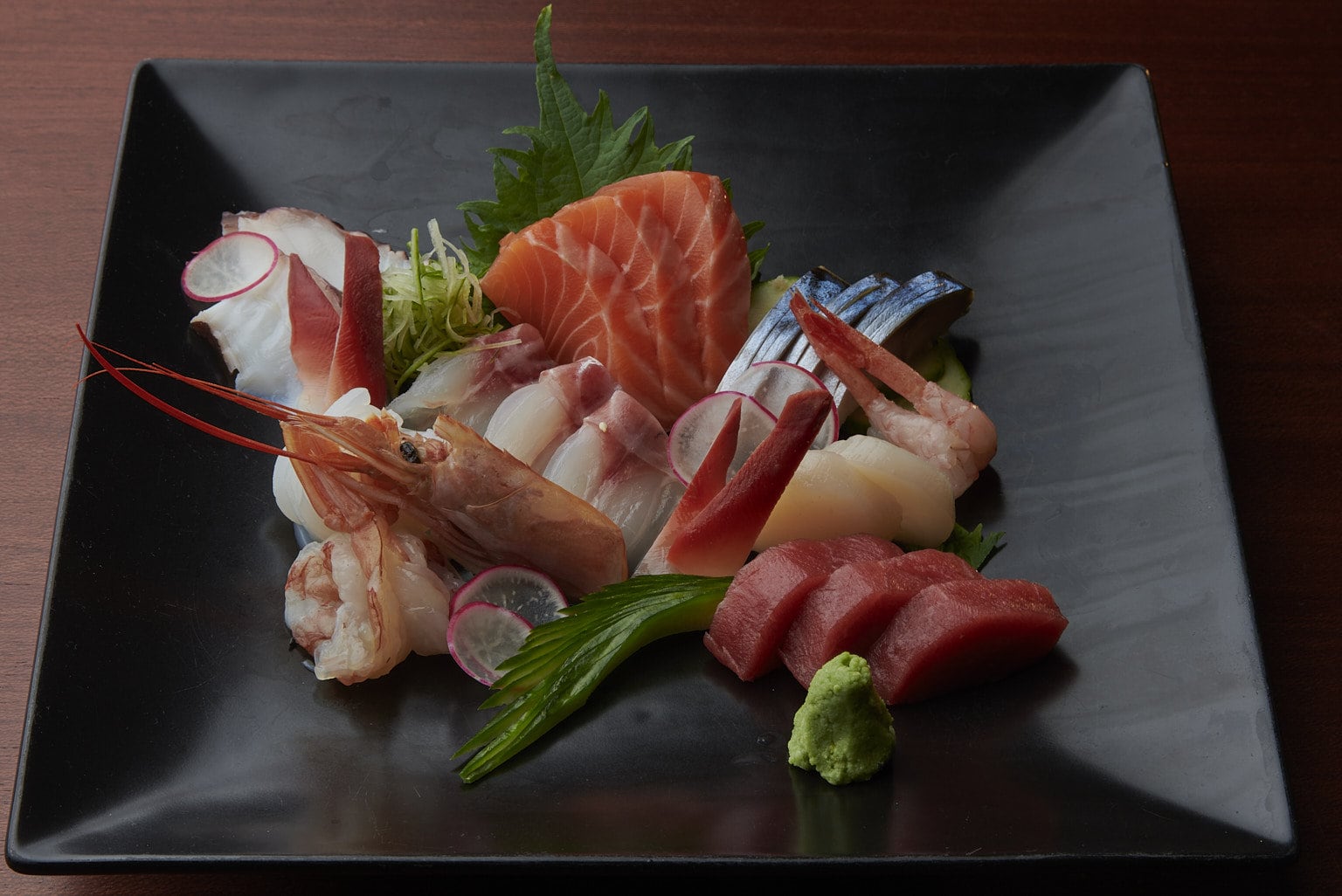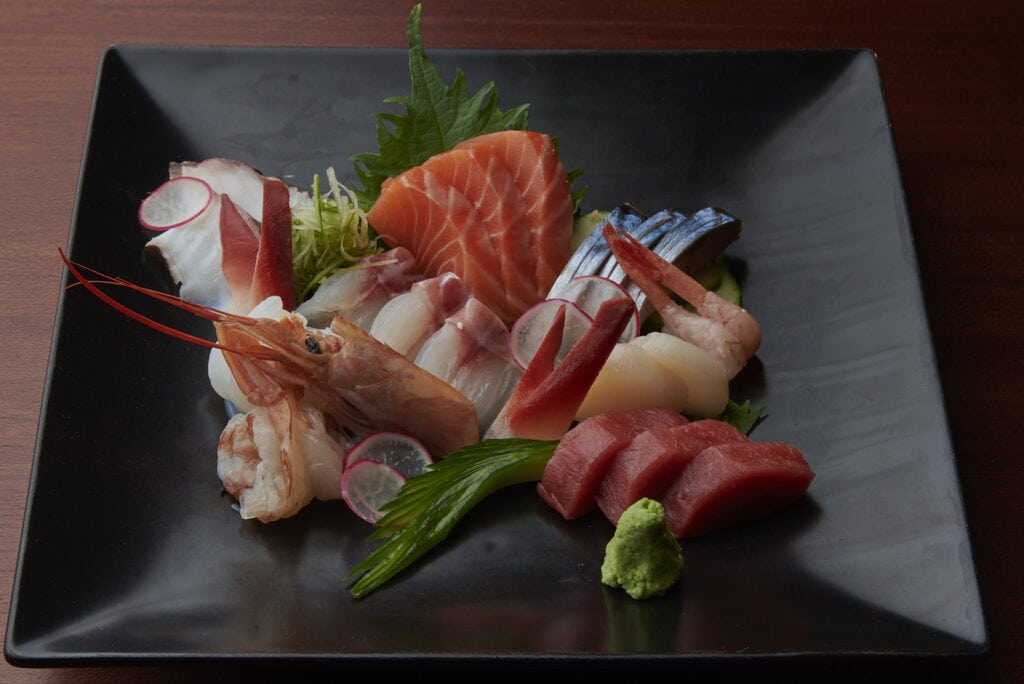 Good sashimi Moriawase has its price and takes time
This also explains the waiting times that have occurred again and again for years when several guests order sashimi Moriawase at the same time (popular classic from WalkIn guests: "I want only fast eat a Sashimi Moriawase!" - However, Sashimi Moriawase is the dish on our menu that takes the most time). 
If each fish has to be filleted individually in a different way, it takes time.
And because one is sometimes operationally blind, we are fascinated that only because of our deeper engagement with the topic of sashimi We found out what is sold as sashimi in some places in Munich - and only then learned to appreciate and classify the quality in our own house.
Where else can you find good sashimi in Munich?
Even if we are really proud of our sashimi - Japanese cuisine in Munich has other beautiful daughters. And we are not afraid (and have never shied away) from gladly recommending them as well. 
Our expertise is mainly limited to the Munich area besides occasional visits to Germany, Japan and the rest of the world. Therefore, here are a few short, current assessments, where you can currently get good sashimi in Munich.
Of course, not with any claim to completeness and of course very subjective.
We know the Munich Sushi Restaurants quite well for over 20 years, the restaurants suggested here and many others we last visited again in the summer of 2022 and tried their sashimi.
Honest sashimi at Haguruma
The small restaurant on Baaderstrasse served us a thoroughly delicious sashimi at a fair price in August 2022. 
Of course, you can arrange it more perfectly and also obtain even better quality fish, but the Haguruma is currently a little insider tip in Munich for sashimi, nigiri and warm cuisine.
The Restaurant Kaito has been run by a young chef under new management since 2022. 
The fish quality at Kaito is good and the sashimi is also okay. And that is already a special feature in Munich. 
Sometimes we are surprised with special things at tokusen sashimi, for example turbot liver steamed in sake or octopus head pieces - you don't see that everywhere. 
Nevertheless, due to the price level, we would like to see a little more finesse in the basics, different cuts depending on the type of fish and, of course, the finely sliced radish. All the sashimi we saw offline & online at Kaito completely lacked the daikon tsuma, which is a bit of a shame, especially given the price point and the fundamentally classic focus of Kaito.
Beautifully served sashimi at Kitcho
We have had mixed experiences with sashimi at the Restaurant Kitcho in Wurzererstr. made 
Very nice, very Japanese arranged in a beautiful bowl instead of any slates from the gastro wholesale market. A decoration with finely cut daikon tsuma, as it should be - discreetly in the background, but there and supports the arrangement.
The point of the wonderful tableware at Kitcho should not be underestimated - enjoying such plates and such sashimi automatically transports the Japan lover to an inner peace, to a place where he can sit just for himself at this table, partially block out the surroundings, and enjoy the lovingly arranged sashimi in the appropriately chosen tableware.
The fish cut in different shapes and in itself a pleasure - although there was a little weakness in the choice of material (Hotate, Maguro, Tako - better qualities are possible) and once with the Hokkigai mussels still some sand landed on the palate.
Something like this can always happen, remember: hardly any food is as sensitive and always new to make as fish, especially cut for sashimi. With a "New Style Sashimi" all such weaknesses are lost in the sauce and you do not even notice it.
On the next visit (the third this year 😉 we then tried the small sashimi moriawase, which came not in such a nice bowl, but a typical Japanese round oke, was also nicely arranged and delicious. 
We like sashimi at Kitcho better than sushi, so we would definitely recommend Kitcho for sashimi and snacks from Japanese cuisine!
What is your insider tip for sashimi in Munich?
Where do you like to eat sashimi in Munich?
What restaurant can you recommend or would like to know our assessment?
We look forward to your Feedback and are always grateful ourselves when we get to know a really recommendable Japanese restaurant!