Munich, the capital of Bavaria, is the place to be for good japanese cuisine and real Sushi very thin, we agree with many sushi lovers and Japanese chefs. And not because there is so much good competition - but unfortunately a lot of bad.
Among the restaurants we can generally recommend is Haguruma in Munich's Gärtnerplatz district. Here's our take on it.
Haguruma - Iazakya in the Gärtnerplatz district
Parallel to the Isar near Frauenhoferstrasse, where one of the two Sushi Zen used to be, the small Japanese restaurant Haguruma (cogwheel) is hidden. 
Was run for many years by a Japanese lady who was always cheerful - a small rustic restaurant, always worth a visit for the hot food, although fluctuating quality in the sushi department.
Clearly, these restaurants also depend on whether they are owned by a sushi master or whether the owner manages to ensure consistent sushi quality across multiple employees.
Today (as of August 2022), Haguruma is run by the cute Japanese chef Yuzo Hirata, who also worked for us on a temporary basis for a short time, then got some inspiration at the Mizu Sushi Bar in the Hotel Bachmair and now runs Haguruma himself.
Simple ambience, small chairs and tables
As before, Haguruma is very simple in ambience, not a fine dining restaurant, but for a chat with your best friend or a little neighborhood meal. The walls are currently very bare, the outdoor area is a bit improvised, but you can sit here in the sun at lunchtime and in the evening on a one-way street that is not too bumpy.
We found the nigiri quality really ok, especially for the price! 
There are also a few creative rolls, but depending on the version, they should be treated with caution. The Sakekawa Maki loses the crunchiness of the grilled salmon skin, the Red Hot Chili Roll seems more like an attempt to tie in with the unspeakable pseudo-sushi that can be found everywhere in Munich at the moment, and the Dragon Green Roll ultimately only works through the sauce.
Even though we all always want to try something new, something special: try classic sushi and sashimi at Haguruma, it's not bad and that's saying something when we say that! 
Japan expert Axel Schwab also knew to praise us the Chirashizushi, lovingly arranged and at a fair price.
Retested 2023: our new insider tip
In August 2023 we were once again in the Haguruma and are thrilled!
Haguruma has upgraded in the kitchen and service and seems to have found its identity anew. Quite charming, drawn descriptions in the menu bring the restaurant, Japanese sake or other aspects closer to the customers in a straightforward, informative and sympathetic way. The service speaks German or English, makes in both cases a sympathetic impression. The chef Kikuchi, who has previously worked with Master Yagawa at various stations in Munich and also makes a very good sushi, is now on board.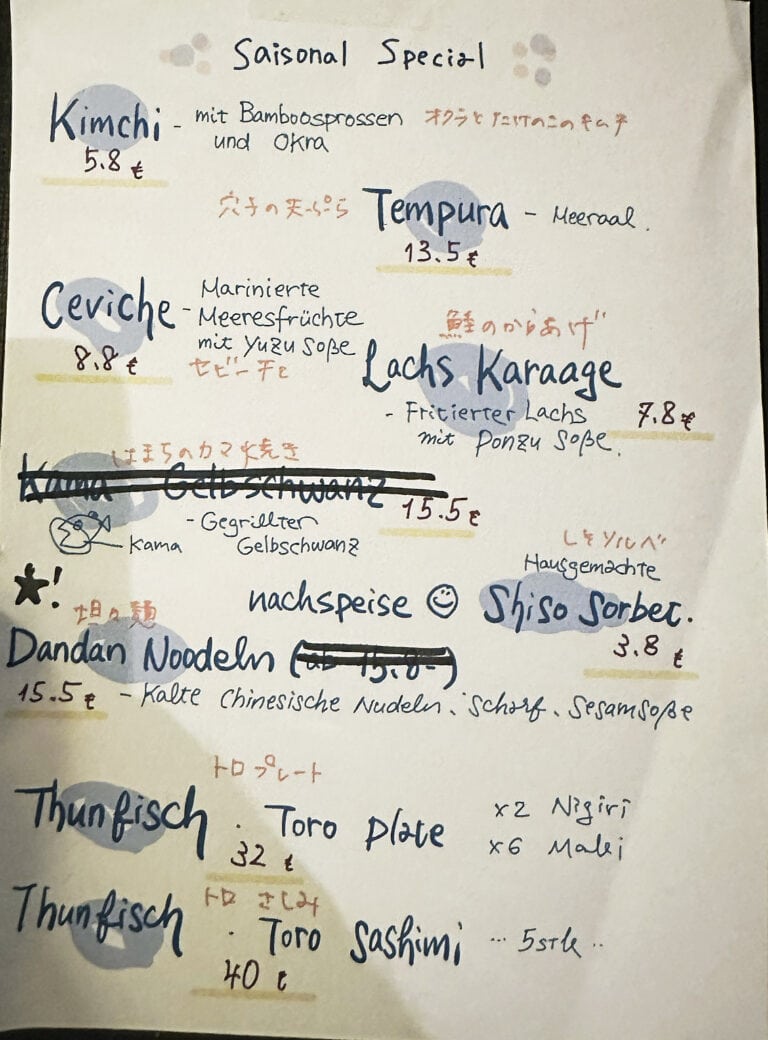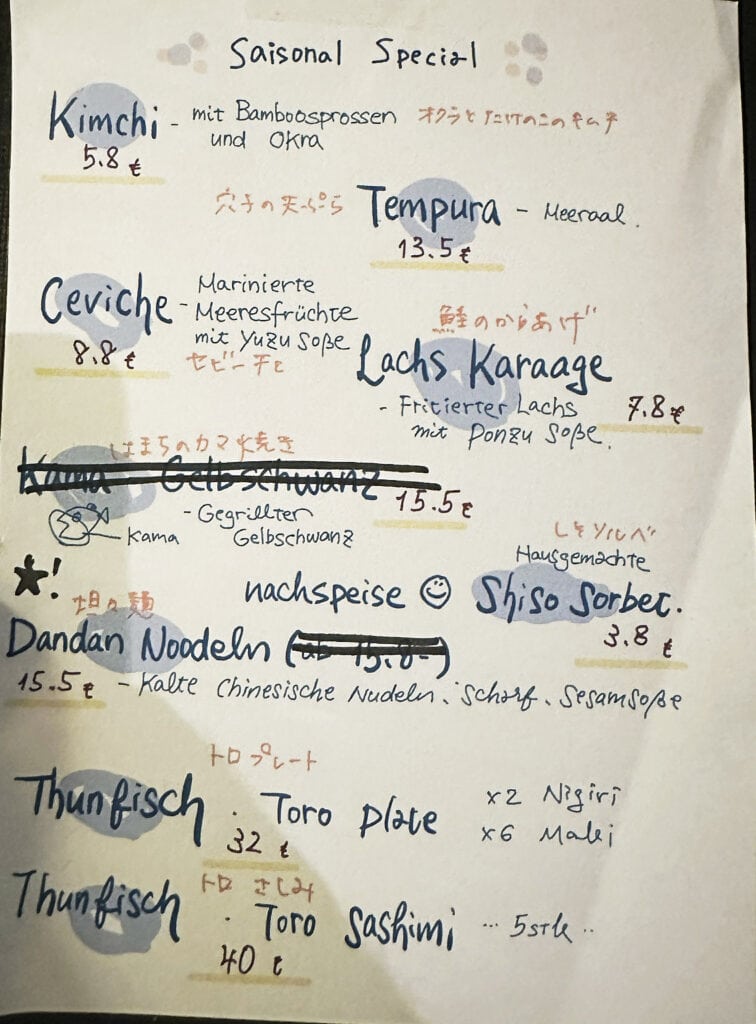 We notice that the quality of the nori can still be worked on a bit, they are sometimes a bit tough, that can still be better.
All in all, however, the new appearance is so coherent and likeable that we are absolutely thrilled and like to try our way through the menu more often! 
Next up would be perhaps the interior, which is still a bit too bare and in the days of the previous owner a bit more homey, cozy - but all in all we are absolutely thrilled, wish the Haguruma the best and will be back soon to try the new warm kitchen! Gambatte, colleagues!
✺ Opening hours ✺
Visitable at noon and in the evening.
Conclusion: Give Haguruma a chance & try it out!
Haguruma is something like an izakaya in the middle of the Gärtnerplatz district. It could use a little more flair and ambience, but the new impulses in service and cuisine inspire us and make us curious to see what will happen next!
Contact: Hagaruma | Baaderstraße 62, 80469 Munich | Tel. 089 13939926 | no website
Attention, the Haguruma is sometimes closed or on vacation without prior notice on Facebook, Google, an answering machine or elsewhere!