Our Bentō for Mother's Day 2021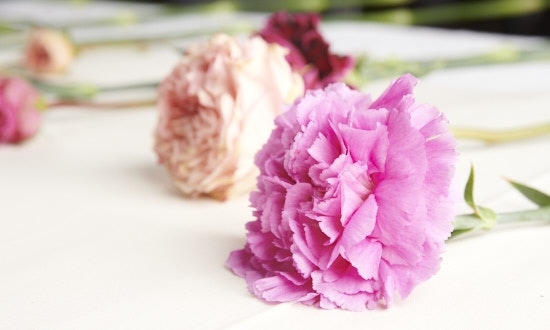 The Mother's DayBentō is this year a delicious, but also a particularly healthy compilation of Japanese trifles. Because especially in these times, a nice meal should not only make you happy, but also be beneficial to your health.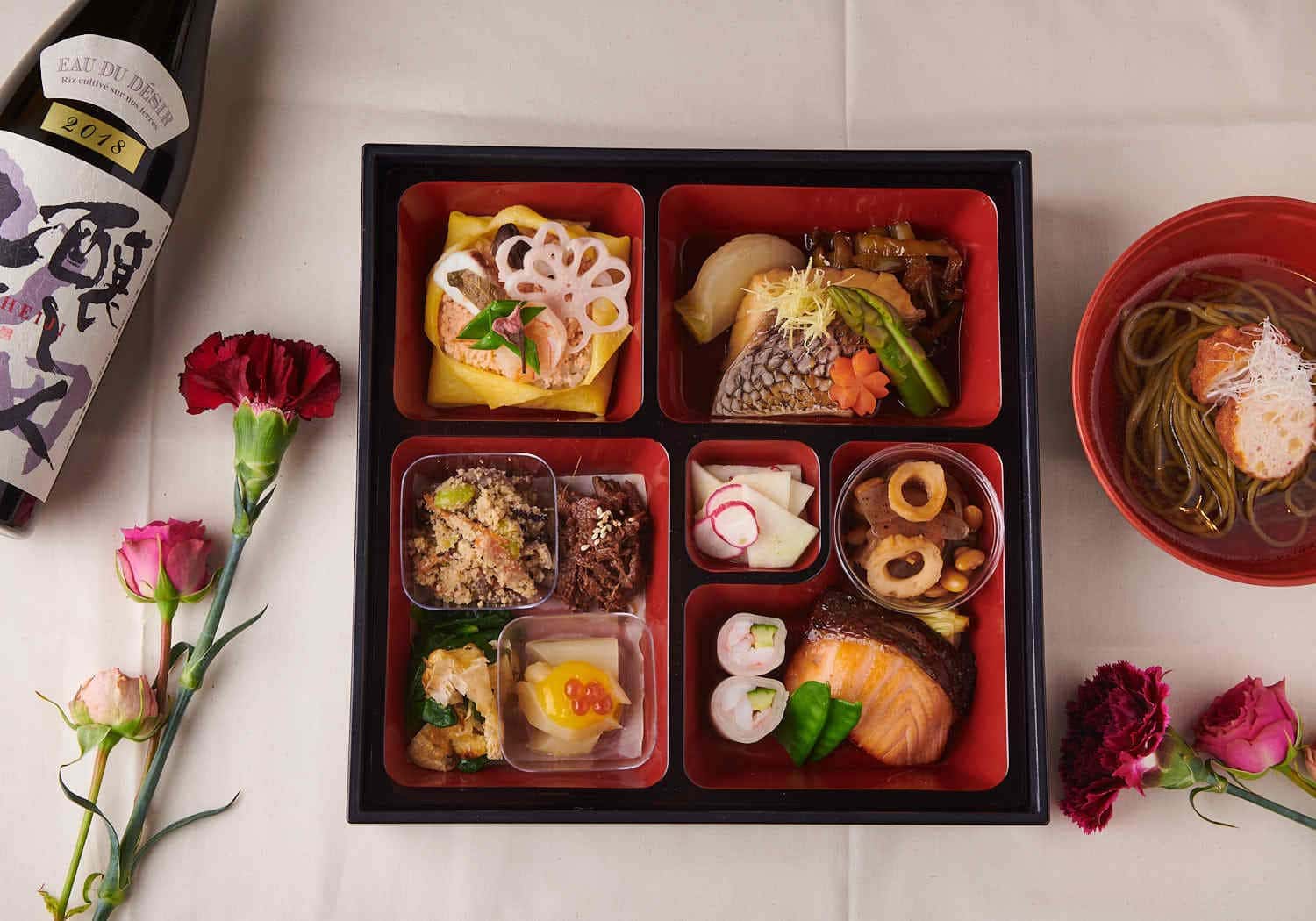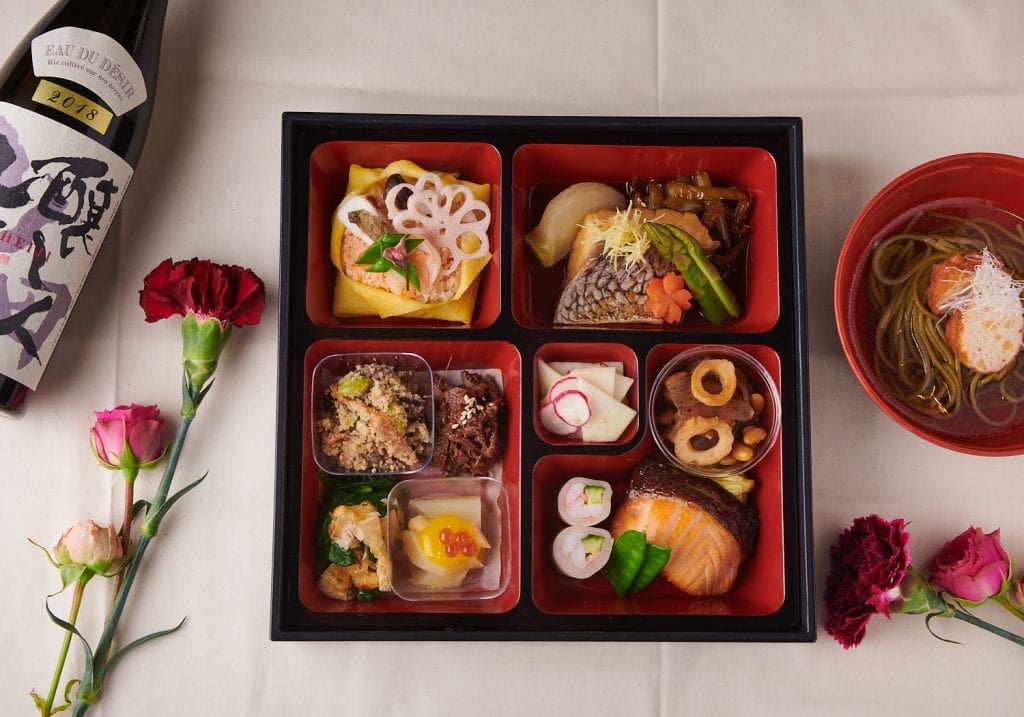 Healthy & fine from the appetizer
Our kitchen team has (instead of the otherwise in a Bentō usually encountered fried dishes) prepared two different dishes with very little oil: this time there is a grilled appetizer, "Yaki-zensai" and a cold appetizer, "Kuchitori" (口取).
These appetizers are balanced at the same time in terms of nutritional value and nutritiousness. They consist of beef "Shigure-ni" (しぐれ煮), New Zealand Ora King salmon, high-fiber "Okara" (おから, a tofu product, still largely unknown in Munich), soybeans (which contain isoflavones and are considered very beneficial to health) and fine seasonal white German asparagus. 
Main course braised rockfish ("Ishimochi")
The main dish is a braised "ishimochi" (rockfish).
We do not use katsuo-dashi (鰹出汁, bonito soup stock) for this as we usually do in the Japanese cuisine for stews, but instead cooking sake. This will somewhat reduce the smell of fish, in addition, the dish with Soy sauce, mirin and sugar refined. This creates a smooth rounded taste experience without destroying the flavor of each ingredient.
Dessert without sugar: Mushizushi
But something very special in this Mother's Day Bentō is our dessert: it is mushi sushi (蒸し寿司 steamed sushi). This unusual sushi is made with rice, chopped umeboshi, ginger and cherry blossom leaves. The combination of the aroma of cherry blossoms and the sour taste of salt plums in the mouth is a dish that should remind you of spring.
No matter what weather the spring presents on Mother's Day, our chef hopes that the steamed sushi will do you good and give you a warm pleasant spring feeling.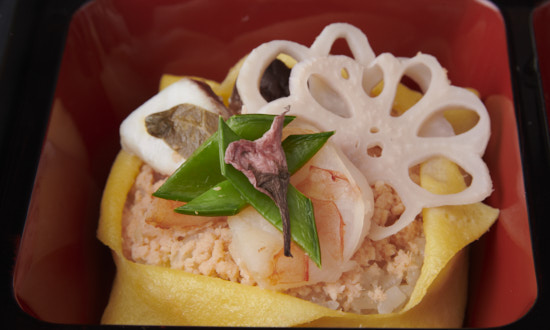 Served with clear soup with soba noodles
For Mother's Day bentō, we also include a small soup with chasoba noodles, which also includes a gamodoki with takenoko and ebi.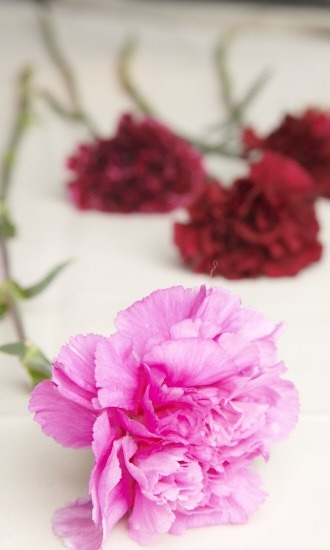 Our sake recommendation for Mother's Day bentō 2021
Two Sake we recommend for the Mother's Day bentō and this time it is two of our favorite sake that we can recommend to go with it:
Hōyō - Kura no Hana. A Japanese fine sake with a very subtle hint of sweetness, in the 500ml bottle certainly not an insurmountable challenge.
Kuheiji - Eau Du Desir, an impressive sake with a fruity aroma from an exciting brewery, more info from us in the future.
Mother's Day Bentō Order & Opening Hours on Mother's Day
As always, we recommend early pre-ordering as our specials are always in high demand and only available in limited quantities.
You can order the Mother's Day Bentō again in a disposable box or in the Japanese Shōkadō deposit box. We recommend this time the deposit box because our (also beautiful) disposable boxes are still stuck somewhere in the customs chaos between Japan and Germany...
On Mother's Day we are at noon from 12-14h and from 17h to about 20.30h for you to deliver or pick up. Small tip: we also deliver to the park, to the Isar etc...  
Cake with salt 'n' yuzu glaze
Somehow we can't believe that we let the kitchen team talk us into producing only 12 of this beauty. But of course it's like this: we are a Japanese restaurant, primarily we serve sushi, and all the desserts that the team comes up with have to be produced on the side, so to speak, which is difficult with limited space and currently limited team. This butter almond cake not only has a friendly sunny color, but also a glaze with our fine Salt'n'Yuzu sake liqueur, which we hope you can enjoy again soon in the restaurant with us. In the meantime, secure one of 12 of these little one-of-a-kinds.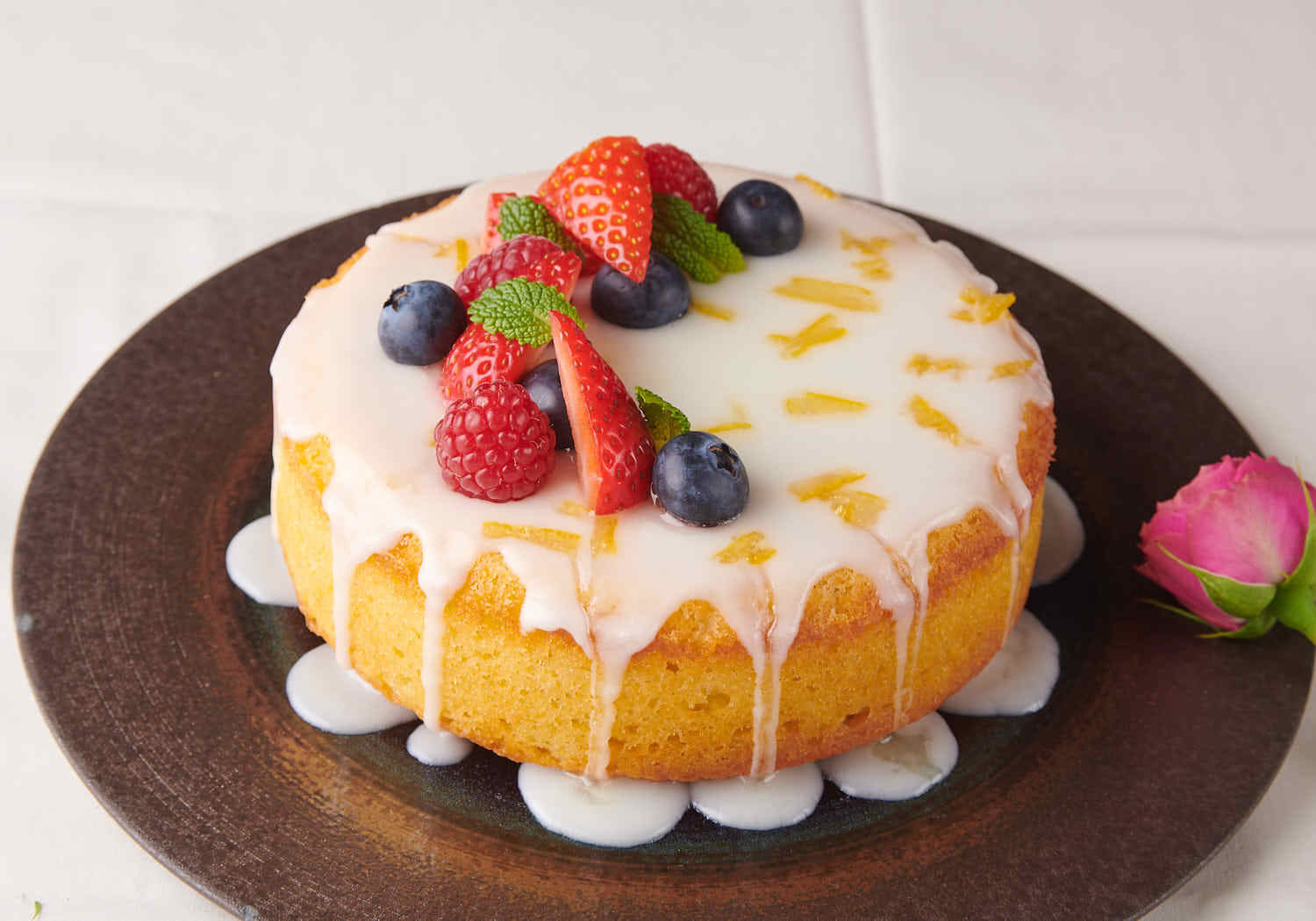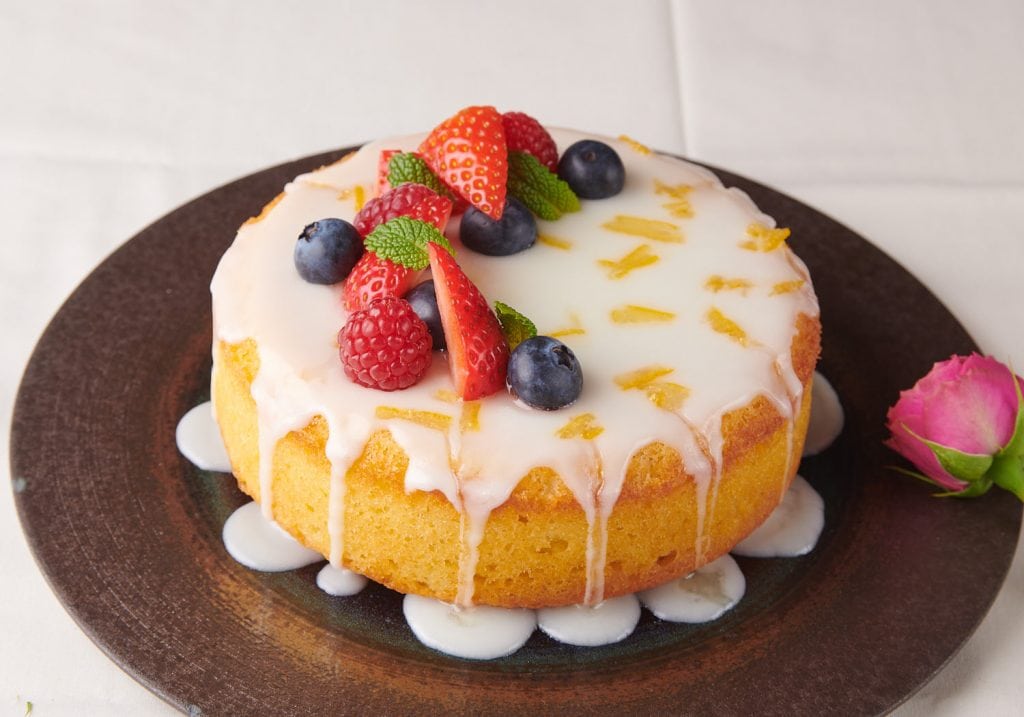 Our special for Father's Day 2021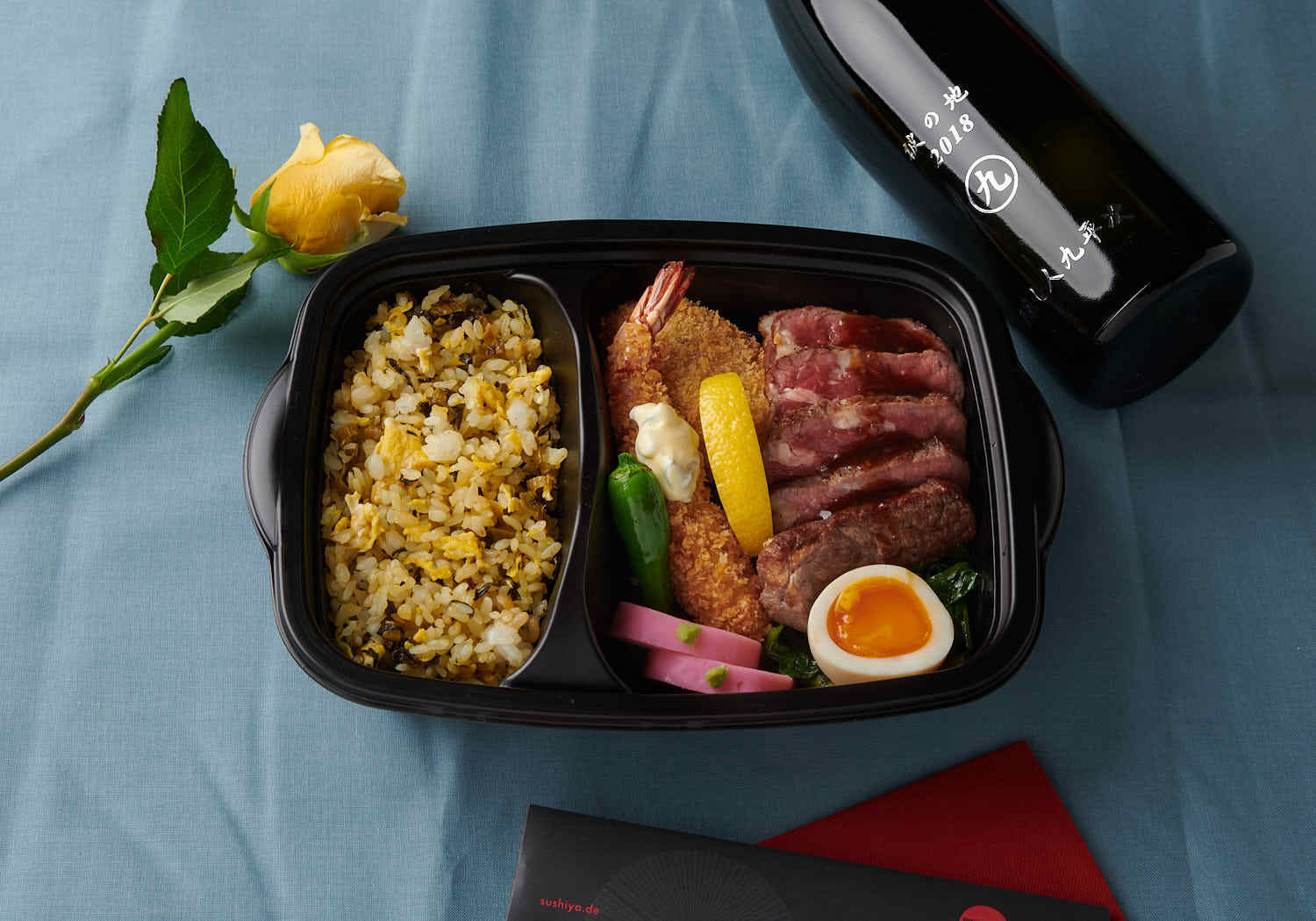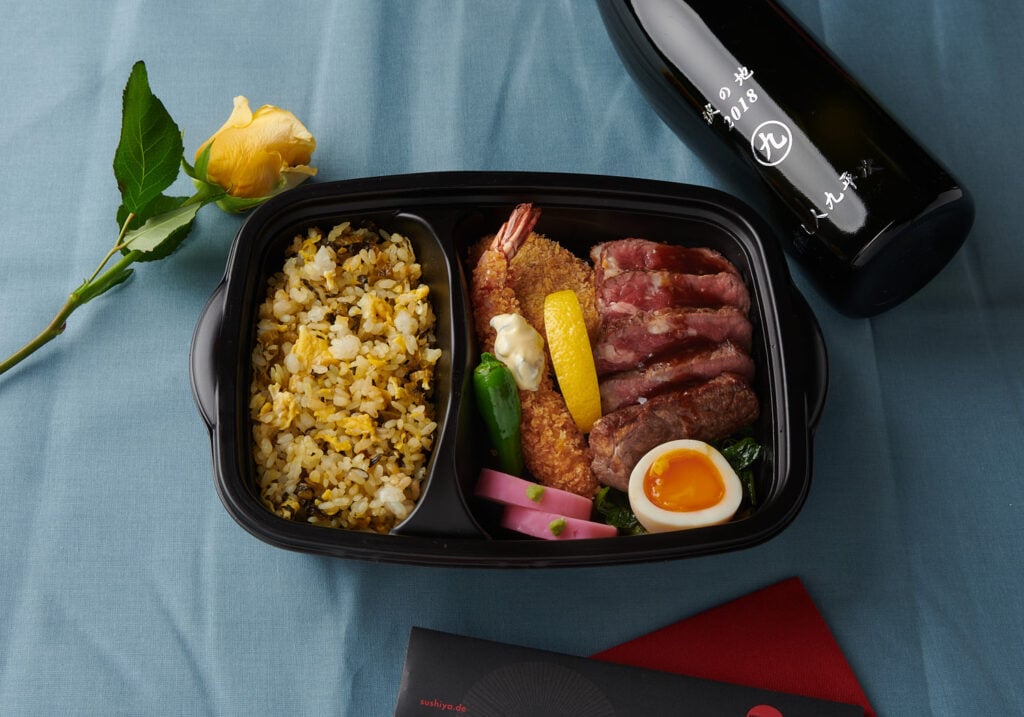 A week after Mother's Day falls this year the Father's Day and also there we have a fine special. This is a little more rustic and not so elaborate - because fathers need strength above all. For example, from a good base of John Stone steak slices, water spinach tossed in garlic, fried shrimp in panko coating with homemade remoulade, curried potato corn korokke, marinated half organic and fried rice with marinated takana leaves. The sake we recommend with this is the Kuheiji "Ka No Chi", a mineral banger.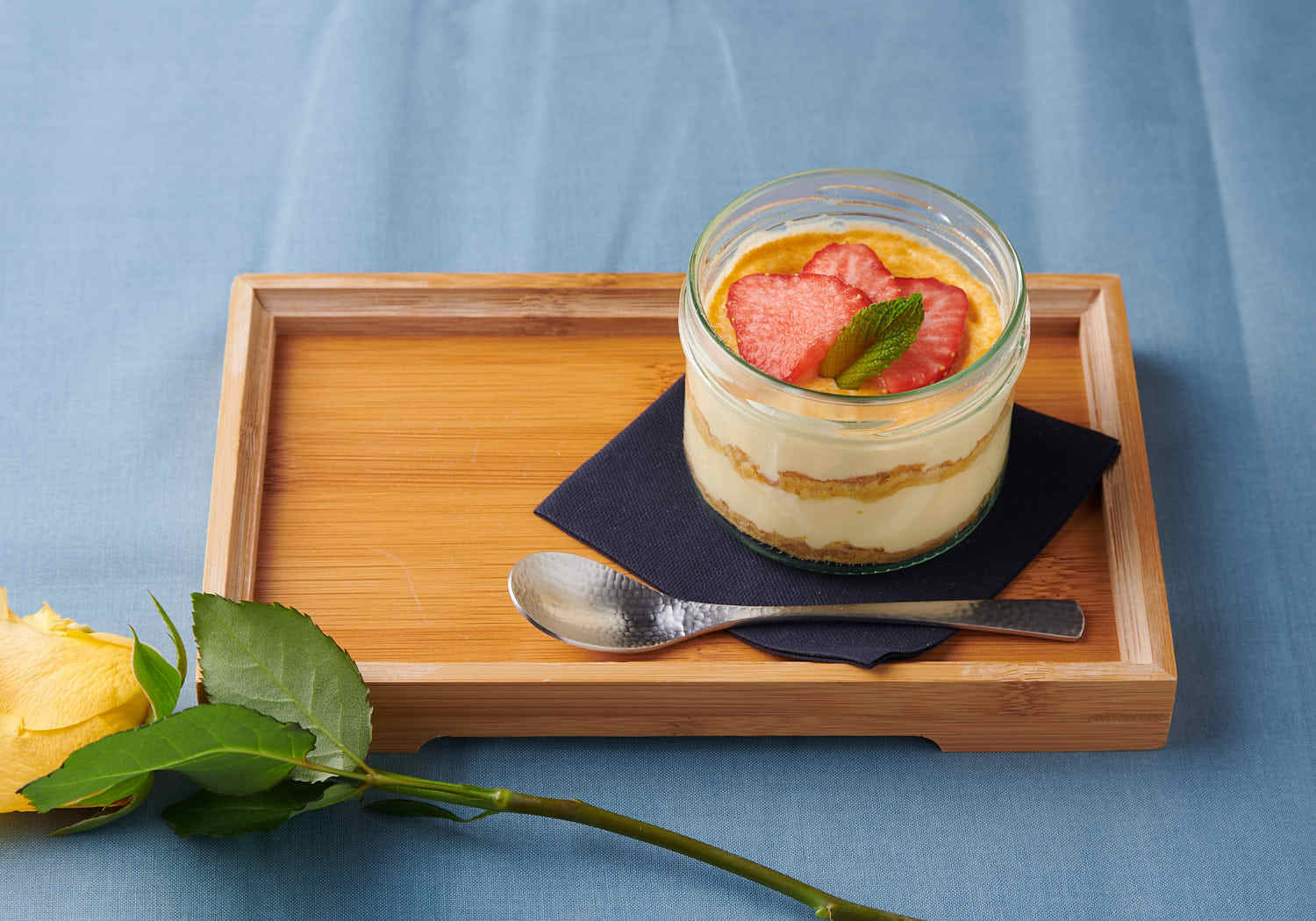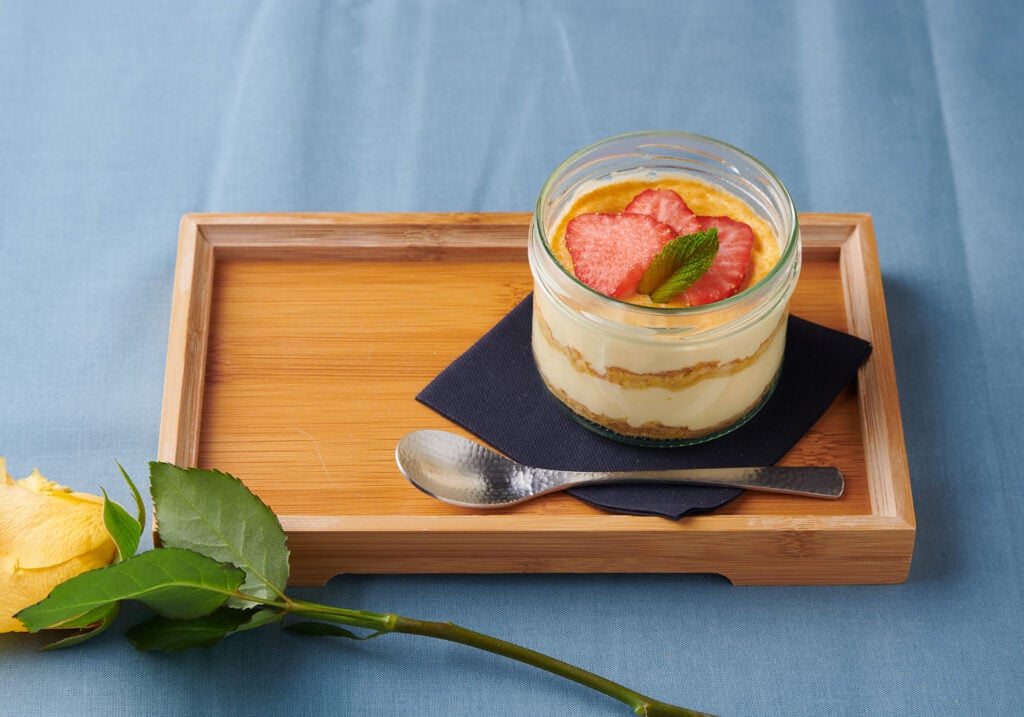 Accompanied by a fine tiramiso dessert on request: inspired by the Italian tiramisu, our team has created a sweet dessert variant in a glass to go with clever use of soy sauce and white miso. The result is a subtle caramel note - give it a try, we're excited to see how you like it!
Pre-orderable from Tuesday, May 11 as always via our Store for pre-order for delivery and pickup service and then over the extended Father's Day weekend, but as always only while supplies last.