On September 5, there will be another unique opportunity for lovers of good Japanese cuisine:
Chef Riichiro Matsui again creates a Bentō for the Japanese Consulate General in Munich, which receives a high visit from Japan.
We take this as an opportunity to also offer a limited number of these special Japanese Bentō for our customers to order in the evening.
This bento is available for delivery or pickup only, the restaurant will be closed on September 5 due to the extensive bento production.
Don't miss this opportunity - a properly Japanese made Bentō, prepared by qualified chefs with love and high quality ingredients, is unfortunately an absolute rarity in Munich! 
It's a little voyage of discovery of different, typical Japanese flavors, all handmade little things, all in one box. 
Here's a look at earlier Fukiyose-Bentō:
Sōshū Fukiyose Bentō
『早秋吹き寄せ弁当』
The description of the dishes starts in the upper left compartment. This is not a general rule for Bentō, where the order of the food is not fixed anyway. But our kitchen team spontaneously fixed it this time, so that the left upper Subject is the first.
Sweet and sour fried chicken with peppers, onions and tomatoes
酢鶏
緑パプリカ 玉葱 トマト
A delicious dish with a perfect balance of sweet and sour flavors, prepared with Label Rouge brand chicken thighs, which we also use again and again for our popular appetizer Shio Karaage use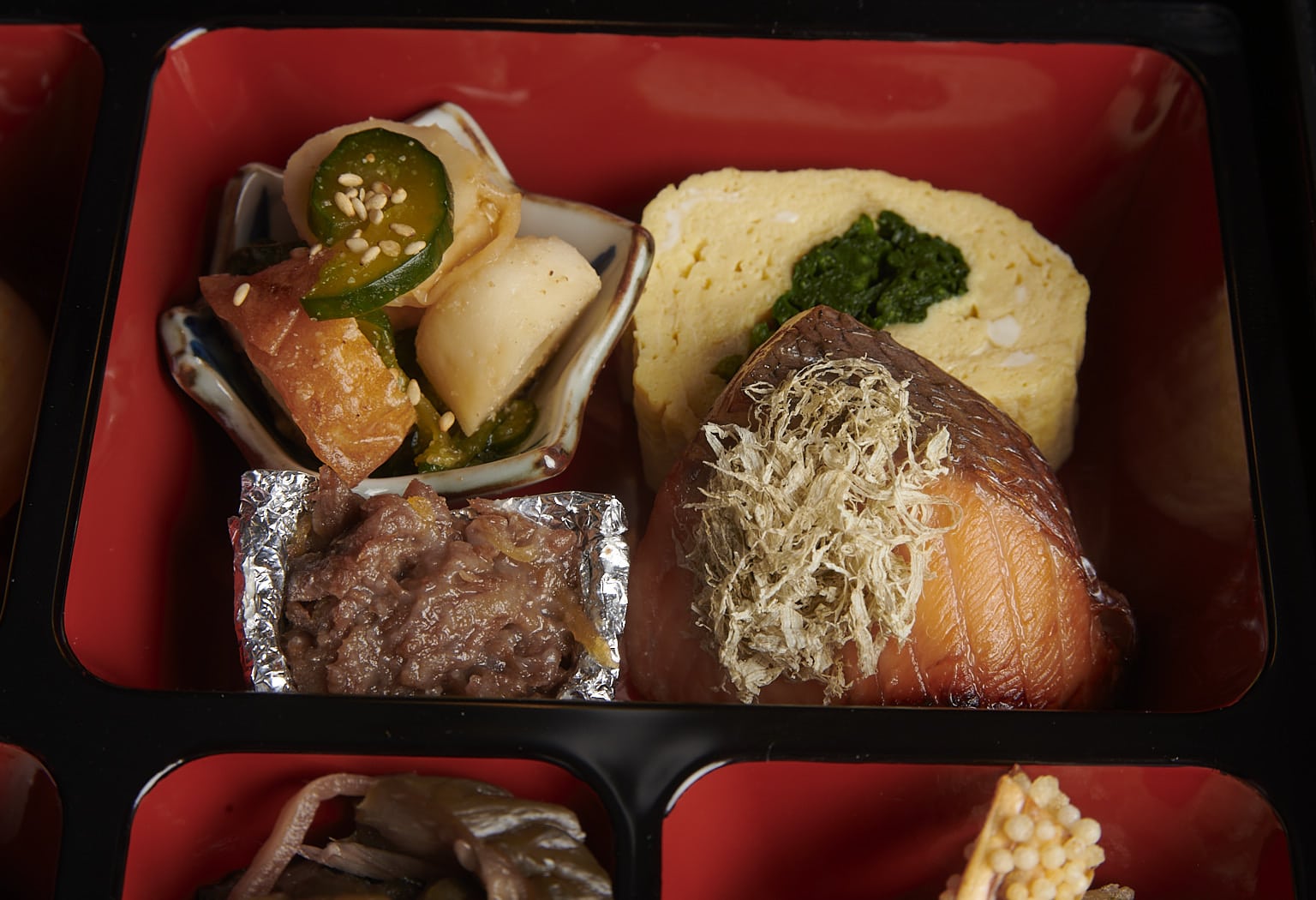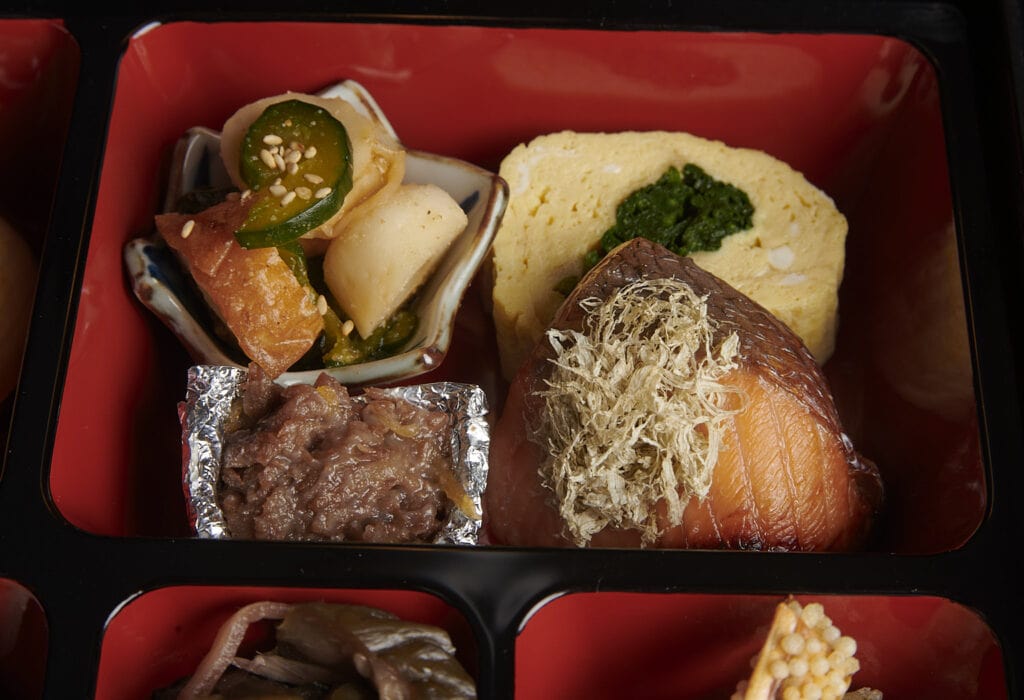 Wagyū beef braised in wine
和牛葡萄煮
They say beef usually pairs well with red wine, but this stew uses white wine to enhance the Astringency and give the dish a fruity aroma. 
It is seasoned with Soy sauce, sugar and ginger in Japanese style called "Shigureni" (しぐれ煮).
Fresh spinach wrapped in a dashimaki tamago.
菠薐草の出汁巻き玉子
A dashimaki tamago (だし巻き玉子) is a rolled omelet made by mixing dashi broth with eggs and baking, giving it a fluffy consistency. In our house as always homemade with Organic-Egg. Enjoy the combination of spinach and dashi, which gains sweetness during cooking.
Egg roll with spinach
ちくわと胡瓜の胡麻和え
Chikuwa (竹輪) literally means bamboo ring and is a fish paste made into a bamboo-like shape. It has a pleasant fish flavor and an interesting consistency. Cucumbers and chikuwa are dressed with a sweet and salty sauce and sesame seeds. For a little refreshment in the middle of a meal.
Grilled salmon marinated with yuzu
鮭幽庵焼き
The autumn salmon, which is now in season, is lightly grilled in soy sauce with the aroma of Yuzu.
Further clockwise, can be found in the right lower Subject of our special Fukiyose Bentō again some fine fried specialties.
When it comes to fried dishes in Japan, in addition to tempura, the breaded and deep-fried "furai" (フライ) is also very popular as a staple in the Bentō. Tempura has been eaten in Japan since the Muromachi period (1333-1573) and is therefore a part of Japanese people's immediate culinary experience. However, deep-fried dishes are considered in Japan to be a "Yōshoku" (洋食) originally imported from the West, which originated after the Meiji period (1868-1912) when breading was introduced to Japan. 
Breadcrumbs originally brought to Japan from the West were fine-grained cookies or dry bread, but the Japanese made their own breadcrumbs by crushing a loaf of bread and grinding it through a wire screen. Japanese breadcrumbs are unique because they have a light texture and contain no oil.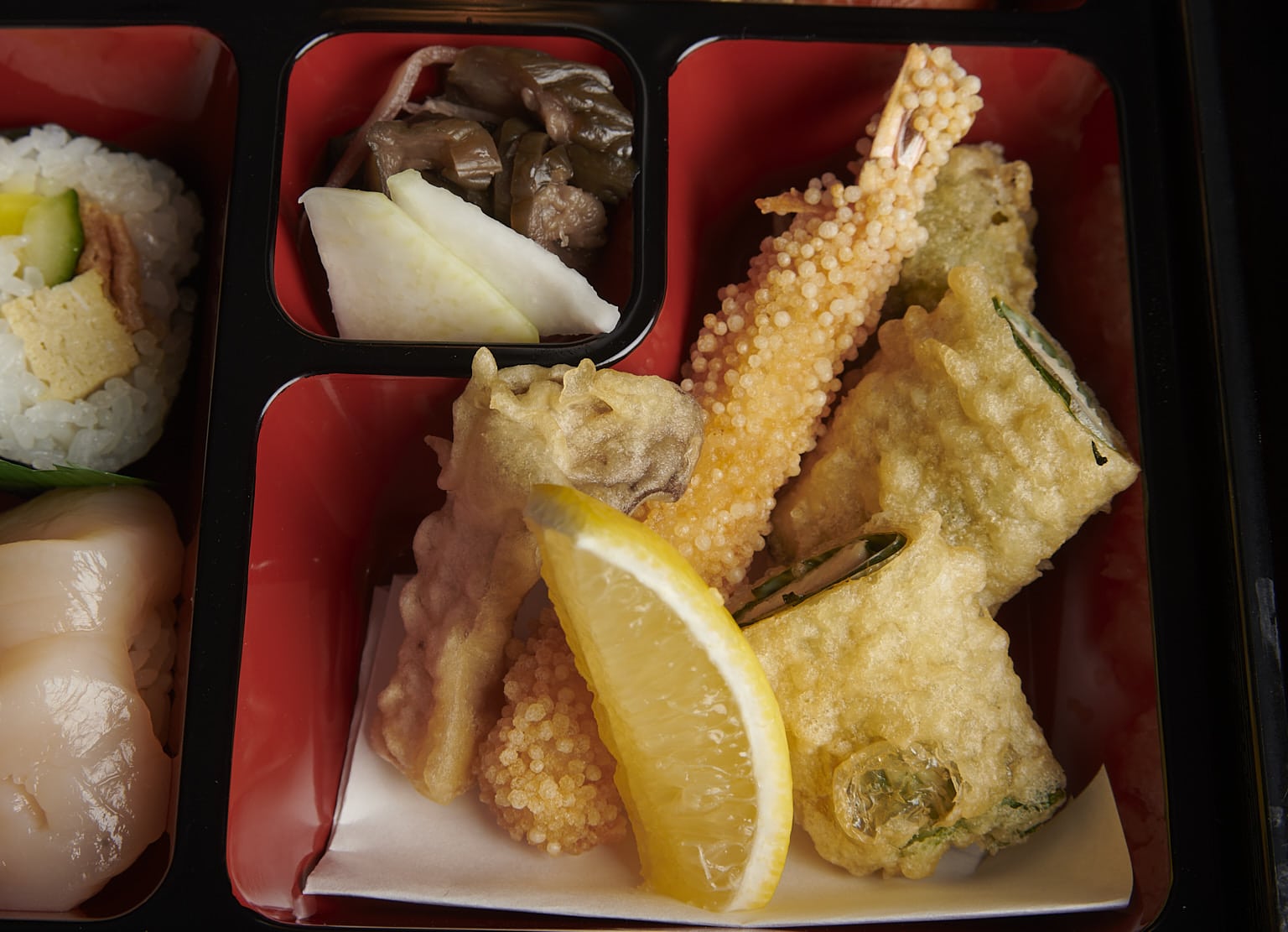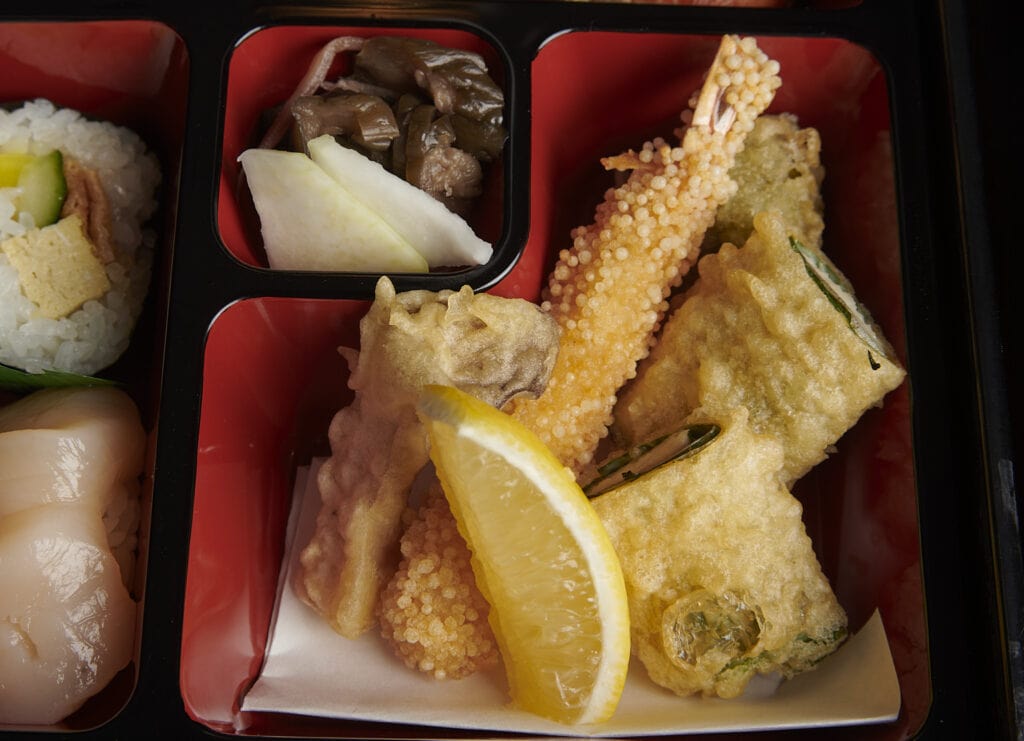 Deep fried eel wrapped with shiso leaf and yuba
鰻白焼紫蘇湯葉揚げ
The greasy Eel is steamed to remove excess fat and wrapped with shiso leaf and yuba. So you can enjoy two textures at the same time: soft and fluffy inside and crispy outside.
Shrimp deep fried with rice crackers
海老真砂揚げ
A crispy dish of small cracker grains of mochi rice sprinkled on the surface of the shrimp. The shrimp are also very hearty.
Tempura of Maitake mushrooms and Shishitō peppers
舞茸とししとうの天ぷら
A tempura, which seasonally pulls together the departing summer and the approaching autumn:
Shishito mushrooms, a Japanese allusion to summer, and maitake mushrooms, reminiscent of autumn, are served as tempura.
Finally, the lower left compartment:
Futomaki sushi with cucumber, takuan, deep fried Tōfu, sweet and sour ginger, and egg drop
太巻き寿司
胡瓜 たくあん 稲荷揚げ 刻み甘酢生姜 玉子
The light taste of this futomaki makes it a tasty one despite its many ingredients. Sushithat will never leave you full, no matter how many you eat.
Nigiri Sushi three variants :
Bluefin tuna, loup de mer, scallop
握り寿司
鮪 すずき 帆立貝柱
To finish the meal you can Nigiri Sushi which are prepared with our typical fresh ingredients in the best quality.
Pickled kohlrabi and cucumbers
コールラビの浅漬け 胡瓜の柴漬け
Kohlrabi, a local product, are processed into "Tsukemono" (漬物). Tsukemono are simply to call pickles would be fatal, they are an essential ingredient of Japanese cuisine, which we will take a closer look at on occasion. Enjoy your meal!
We were honestly surprised by how many orders we got in a very short time for this Bentō as well. In the end, such a Bentō box (yes, a Pleonasm From the customer's point of view, it's only like a larger main course. But if that costs about 80 euros, then it takes a lot to make the customer satisfied. Apparently, however, there are customers who understand that for such a Fukiyose-Bentō then not only a lot of different, high-quality material is needed - but above all a lot of working time to produce such a box in this quality and taste variety. We find the topic of Bentō super exciting and hope to be able to offer such specials for you more often in the future in completely different quality levels. And especially we thank the 30 customers who got hold of the Bentō this time for their trust and the great praise we received. Here are a few excerpts:
Customers especially praised the variety of flavors, have expressed pleasure that there was something very special to try. Naturally, such a box can not reach the quality of a special event at sansaro directly on site. In this respect, one customer said that he preferred culinary our Special Events would visit.
One customer was surprised by the sweet and sour taste in the first compartment, which he did not know from Japan.
We were also very pleased that our attention to detail was noticed and appreciated. Here are a few more quotes:
"Nigiri: all excellent, the variant with scallop superb, a poem!"

"Tempura: top quality! Very fine dough. The shrimp in crispy batter, like the  with eel or mushroom"  

"a successful delicious surprise: the little things, some crunchy, some crispy, whose true nature was revealed only after eating."

"the small sake sample (3 bottles) not only went very well with the food, it (unfortunately) makes you want more. (...) the insanely good desert with the insanely good matcha syrup. A dream."
The Bentō can only be ordered for Tuesday, September 5, 2023. 
The available quantity is limited due to kitchen capacity. 
The Bentō is unfortunately sold out, we already have a waiting list in case someone drops out. Please subscribe to the newsletterto be informed about special events and offers always first. Tip: on Wednesday 6.9.23 there is spontaneously still a small omakase menu with different content in limited edition.
We recommend the Bentō in the classic Japanese box, for which we take a deposit of 35 euros. Please do not use a knife and fork in this box, as the delicate surfaces can easily be scratched: the Japanese boxes are designed for wooden chopsticks. We would appreciate if you return the reusable box very promptly. Alternatively, we have beautiful disposable Japanese paper boxes.
SŌSHŪ-FUKIYOSE BENTŌ with matcha pudding for dessert 78 €
(Tips for Sake-see below for accompaniment)
The Bentō can be ordered for pickup between 18h and 20h or also for delivery. Attention: regardless of your choice of time, we do not know exactly when we will deliver to you. We have to organize the tours logistically first and then try to let you know at what time we will arrive at your place. Pickups please at the selected time if possible, thank you!
Weather brave people are also welcome to sit on our beautiful terrace and eat the bento there, it is supposed to be nice, however we do not have service that day.

On December 5, we will not be able to deliver sushi or any other food - the whole kitchen team will assemble the Bentō for you.
But of course you can get a small matching bottle Japanese sake which you can enjoy in style with the bento in our glasses or wine glasses at home or in the office!
Always fit well, for example, a small bottle of Rihaku Dreamy Clouds or Rihaku Wandering Poet.
Or you can try the new sake Kubota Junmai Daiginjo.
As a large bottle of sake we recommend Koshi no Kanbai AMANE, a brand new sake with us, just imported fresh to Germany!
We look forward to you sharing this special opportunity to enjoy a special Japanese Bento à la Kaiseki boss Matsui!